The Nokian Tyres tyre testing centre prepares for opening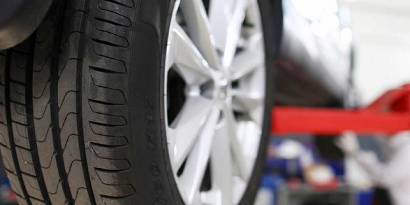 15 March 2021
It is the company's third in the world and its largest in terms of investment in testing, with 60 million euros
Construction on Nokian Tyres' tyre testing centre in Toledo is already in its final phase, and it is due to come on line later this year. The announcement came from the Finnish company, which began work in 2018 in the town of Santa Cruz de la Zarza in Toledo, an hour's drive from Madrid.
This is the third centre opened by Nokian Tyres to test the efficiency of its products in different climates and times of the year. It was created to complement the two centres owned by the company in Finland, and will allow it to test summer, winter and all-season tyres all year round. These are high-performance tyres designed for the Central European and US markets.

Investment of 60 million euros
Nokian Tyres is investing a total of 60 million euros in this technology centre, the company's largest investment in testing to date. The facilities occupy a 300-hectare plot with ten tracks, including particularly a seven-kilometre oval track with cambered curves specially designed for driving at over 300 kilometres per hour.
Other smaller tracks will be used to study the performance of tyres in different situations, with tests for aquaplaning, braking and maneuverability in wet road conditions. They will also be used to carry out tyre certification tests.

A great venue
Jouni Kainulainen, chief test manager at Nokian Tyres, explains: "Warm weather offers us a great setting to test our tires in different conditions. January's heavy snowfall was a surprise, but perfectly exemplified our slogan: "We make tyres for extreme conditions, whether it's snow, torrential rain or heat".
Daniel Rodríguez, director of the facility, says: "Investment in the new test centre is fully in line with our long-term goals of developing new products that reinforce our growth in European markets. This is a real milestone for us, as this is the largest investment in testing the company has ever made".

R&D with environmentally-friendly raw materials
The facilities of Nokian Tyres Spain also include a visitor area, which the company plans to use for new product launches and for internal and external training courses. In addition, a typical Finnish wooden sauna pays a unique homage to the company's Nordic heritage.
Twenty-five hectares have also been set aside for wildlife protection, and an R&D project has been launched in collaboration with local universities, partners and farmers in the area to study the guayule plant as a possible source of high-quality natural rubber.

Daniel Rodríguez says of this project: "The guayule is a type of plant that produces natural latex which can be extracted to produce some of the compounds needed for tyres. We are studying how this plant adapts to the climate of central Spain in order to grow it on a larger scale. The results so far are very promising".