Originally created to advise Latin American companies on setting up in Spain, it now also aims to attract European customers
Blackpol was established when its founders spotted the need for an international firm based on the new law model. This term refers to legal firms that have offices under a single umbrella in different countries, so they can address their clients' affairs from close quarters. To set themselves apart from the large international firms, Blackpol's founders have enhanced this concept with personalized attention, highly-specialised profiles and the use of technology as a means of multiplying efficiency in processes and costs.
With these solid premises, Blackpol has emerged as an innovative firm that comprehensively advises and facilitates companies' international expansions and arrivals, investment funds, family offices and individuals in all the countries where it has offices.

When did the company arrive in Spain?
Our company started up in parallel in three countries – Spain, Mexico and Colombia – to meet our clients' day-to-day needs in these countries, to guide the landing and internationalisation projects of various companies in these locations, and to advise investors wishing to invest in real estate or companies based in any of the countries in which we have a presence.
What was the aim when starting Blackpol?

The aim was to create turnkey projects for our clients. We make an initial study of their real situation in the country of residence, from the standpoint of the corporate, tax and financial position, and in some cases even from the point of view of immigration, then look for the best tax and corporate structure for that landing or investment, with close attention to every detail and delivering a fully operational vehicle or a completely legally watertight investment to the client.
What service do you offer clients arriving from Latin America?
We provide a service that is unique in the market, as we advise companies, startups, investment funds and individuals on how to design their internationalisation strategy, while offering an exceptional level of expertise in corporate, fiscal, financial, legal and immigration planning. After landing, we become their legal team in Spain for their growth and expansion, but not only that – we also advise the client from a business and financial perspective. Another product we offer is a highly specialised boutique service to support foreign clients in their real estate investments in Spain, always taking an end-to-end approach, from international taxation to closing the sales process.
What is the profile of the firm's clients?
We work with companies in the phase of international expansion and with startups in all their stages, mainly e-health, proptech, foodtech and edtech. Our clients include technology companies (artificial intelligence, drones, software, hardware, blockchain and others), telecommunications companies, investment funds, family offices, international entrepreneurs, advertising agencies, recording studios, producers and retail companies, mainly in their online trading operations. We also work with mobile app developers, furniture and textile design companies, restaurant chains and franchises.
What staff do you have and what are your growth plans?
We have a highly specialised team divided into seven main areas: international; Spain legal; telecommunications, new technologies and intellectual property; real estate; M&A; e-commerce and data protection; and international taxation. We also have a team with a high level of expertise in financial and accounting management at the international level. Our plan for this year is to invest more in technology in order to become the international boutique with the highest projection in terms of the new law model, and in growing our legal, financial and real estate team.
What investment has Blackpol made in Spain?
This year we have invested significantly in consolidating several areas of the firm and in staff recruitment, and in incorporating new partners in Mexico, Spain and Colombia. We plan to invest in strengthening and growing in telecommunications and new technologies, and in international tax. We're also launching a strategy for attracting European customers to Spain and preparing two strategic alliances with major Mexican and Spanish entities that will soon see the light.
How important is Spain in the firm's strategy?
Its importance is key. The Spanish office has seen the greatest growth this year, both in its staff and its clients, which is why we plan to expand the firm's most important areas in the country to achieve an even greater impact in terms of the company itself and the clients we advise and support in their investment Spain.
What projects do you now have underway and what are the upcoming challenges?
Blackpol is currently planning to support large restaurant and hotel chains, mainly from Mexico, in their landing and expansion in Spain, where there has been a very favourable reception for Mexican cuisine and for the quality service offered by Mexican hotel chains. We are also launching consulting services for the international expansion of major Spanish companies in Mexico and vice versa, mainly in sectors such as fintech, agrotech and biotech. And lastly, we're working on the launch of a project that is closely related to the real estate sector in Spain.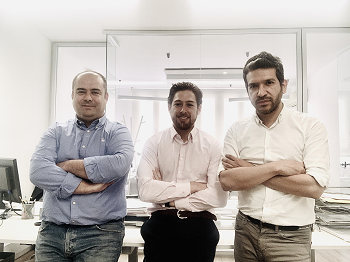 Eduardo Ortega, right, with Fernando Martín, legal management partner in Spain (left), and David Amado, managing partner at IPTMT (centre).