Accenture opens a Liquid Studio in Madrid to support innovation
20 February 2018
The capital joins the global network of 21 interconnected Liquid Studios worldwide
The international consulting company Accenture has opened in Madrid a new center to support companies in accelerating their innovation and business development based on new, fast-implementation technologies. The new Liquid Studio becomes the 21st of the company's global network.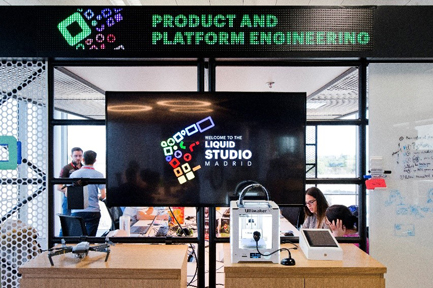 There are already over 100 professionals from more than 25 technology specialties working at this center in Madrid, joining a network of more than 1,300 experts whose mission is to facilitate the coexistence of projects from different hubs and technologies in a setting of flexible development.
Liquid Studios are integrated within Accenture's innovation architecture structure, and combine six capacities for developing disruptive innovations: research, business projects, laboratories, studies, innovation centers and implementation centers.
At the Liquid Studio in Madrid, Accenture's professionals are available to companies that intend to develop singular concepts, driving their fast into products, in just days or weeks. The teams are grouped in highly interconnected technology spaces, and use fast development engineering approaches and disruptive technologies.
Adán Plaza, Senior Managing Director of Accenture Technology in Spain, Portugal and Israel explains: "With our new Liquid Studio in Madrid we offer the possibility of applying, right now, state-of-the-art technologies, generating an atmosphere for startups and prototypes for cocreation with our clients. Thanks to our highly qualified teams, we are ready to develop and implement those technologies, on a broad scale, within a very short period, and thereby positively impact business".
Juan Pedro Moreno, Chairman of Accenture in Spain, Portugal and Israel adds: "We are fully committed to innovation. To this end, we are making a considerable investment in developing avant-garde solutions that help our clients to achieve success in the new economy, characterized by digital vertigo".