The audiovisual industry in Spain

The audiovisual industry plays a key role in the Spanish economy. Spain is the sixth ranking country in volume of audiovisual exports: films, music, and TV series. According to Ministry of Culture data, the audiovisual industry today represents 28% of all cultural sectors, which together account for 3.2% of the GDP.
Its team of professionals, cutting-edge solutions, diverse locations, and tax incentives draw an increasing number of international productions to our country, which along with a large number of domestic productions, are attracting the attention of international platforms.
There has been an increase in both quantity and quality. The industry has managed to adapt to the times and develop new viewing models. Digital platforms are the main drivers of this growth.
More immediately relevant content is also offered. The business model is increasingly supported by the production of fiction series. According to the PWC study, The opportunity of fiction content in Spain, the potential market for fiction series productions will generate revenues of almost 4.3 billion euros between 2020 and 2021, contribute 811.9 million to the GDP, produce as many as 72 series, create 18,443 jobs (13,944 direct) and give rise to tax revenues of almost 264 million euros.
There is no doubt that Spain has become a hub for international productions. The filming of blockbusters in our country such as HBO's Game of Thrones, and the success of La Casa de Papel on Netflix (which has in fact set up a headquarters in Madrid) are only two examples of the importance of the Spanish audiovisual industry in the world.
Increased investment and TV fiction production in Spain
In addition to Spanish-speaking content, another opportunity is the production of international content in Spain, potentially channeled via the development of a production hub for international content in the country.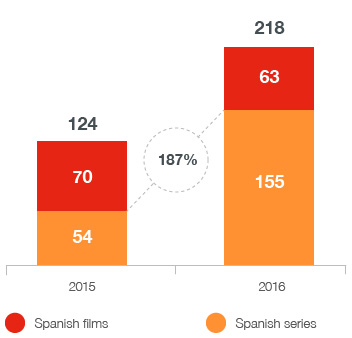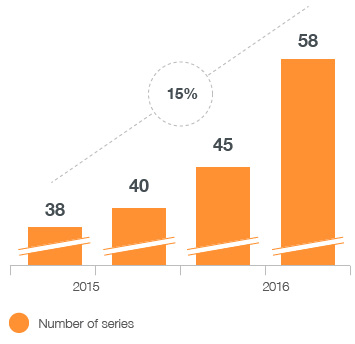 Source: The PWC study .The opportunity for fiction content in Spain
The PWC study  highlights the following strengths of the Spanish audiovisual industry:
Talent, with first-rate producers, creators, directors, etc.
Substantial technical resources for film and other related industries.
Low cost of production in Spain compared to other countries.
Maturity of the local industry, with experience in making first-rate international products.
Global positioning of Spanish content with international hits such as La Casa de Papel and Élite.