Netflix has created over 10,000 jobs in Spain and has worked with more than 40 local production companies since 2015
It has only been eight years since Netflix brought its streaming content formula to Spain, revolutionising the audiovisual industry and showing its competitors the way to the future of television. Established in California in 1997 as a mail-order DVD rental service, it started its video-on-demand service in 2007, and in 2011 it began its international expansion. Its service has been available in Spain since 2015, and in 2016 it began to promote local productions throughout Spain.
The American company seeks to entertain the world with great stories and is clearly committed to Spanish-speakers. Every region has been the scene of its filming and in 2019 it opened its production and post-production centre in Tres Cantos (Madrid) which, with ten sets and spanning 22,000 square metres, is already the largest filming facility in the European Union. The streaming service has become a driving force for the audiovisual industry in Spain and a bridge that brings Spanish culture to the rest of the world.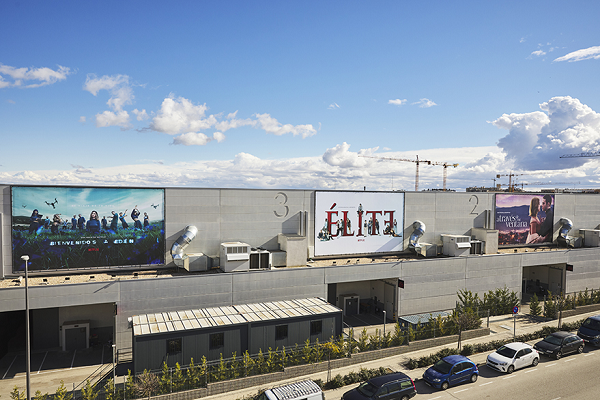 What was Netflix's objective when it arrived in Spain?
From the beginning, we knew the internet would offer a new way of accessing entertainment. Netflix created a unique user experience, investing heavily in technological innovation. At the same time, we focus on delivering the best stories, giving our members the choice of what to watch. We arrived in Spain in October 2015 in a very different context to the current one. There was not yet much of a tradition of paying to watch television, but we were aware of the high standard of the local audiovisual industry. We considered it a strategic country because of its cultural and geographical richness and because it has outstanding talent that would enable us to bring the best stories to homes.
Its local production policy has boosted the audiovisual culture of many countries. Did you expect this success?
The way in which Spanish content has been received is exceptional and its popularity continues to surprise us. For example, three of the most watched non-English language films in Netflix's history are Spanish: The Platform, Through My Window and Below Zero. And it's not only films; the country's production has become a global flagship with a wide variety of titles, including series such as Valeria, Elite and Money Heist, to name but a few. Thanks to Netflix, viewers have been able to discover stories from all over the world; by removing barriers such as language, many of these local stories have become universal.
In 2019, you opened your production centre in Tres Cantos (Madrid). Why did you choose this location?
After three years producing in Spain, we took the risk of creating a hub that would enable us to reinforce our commitment to the industry. Madrid already had great talent and great professionals; we wanted to provide a first-class space to make the most of that potential and to enable them to bring their stories to life.
In December, you opened an extension to the centre, which doubles the size of the facility and makes it your largest production site in Europe. What was the reason behind this decision?
The extension has enabled us to provide creators with new facilities (from five to ten sets) and state-of-the-art post-production solutions. These are advances that will enable us to optimise times, improve processes and increase production quality.
Will your commitment to filming in Spain continue to grow?
Our aim is to continue producing and telling diverse stories that reflect Spain's cultural and geographical spectrum. We have already filmed in every region, creating over 10,000 jobs and working with more than 40 production companies throughout the country. Soon, we will premiere series such as Berlin and Burning Body, shot in Madrid and Barcelona. We are also producing in many other cities, such as Clanes in Galicia, the second season of Alpha Males in Malaga, and 1992, the Álex de la Iglesia series, in Seville. We are also working on the next season of Holy Family and on films such as The Last Night at Tremore Beach and Juan Antonio Bayona's Society of the Snow.
How important is Spain for the company's strategy? How many productions do you plan per year?
Spanish productions have hooked fans all over the world and we couldn't be more proud. We will continue to promote these stories and work to make the Madrid production centre a meeting point and a driving force for Spanish and international talent. At Netflix, Spain is already a benchmark for international projects. In the past few months alone, films such as The Crown (Majorca, Catalonia and Cadiz), Black Mirror (Malaga) and KAOS (Madrid, Malaga, Seville, Almeria, Toledo, Guadalajara and Cuenca) have all been shot here.
What are the next challenges?
We are excited about everything that is to come: ongoing innovation, moving forward with new forms of production, discovering stories that touch fans, supporting and promoting new Spanish talent, etc. We also believe that there is a long way to go when it comes to closing the gender gap within the industry and reflecting that diversity on screen.
Photo Diego Ávalos: Nani Gutiérrez