ABB will open its new lab in Barcelona after summer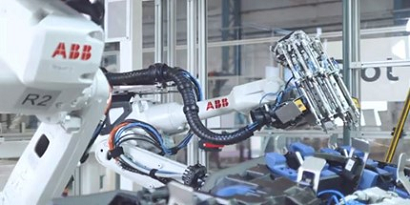 24 April 2018
The investment is estimated at 15 million euros, together with the creation of 70 new highly-skilled jobs
The Swiss technology multinational company ABB will open between September and October a new global innovation center in Sant Quirze del Vallès (Barcelona), where it has centralized the organization of its robotics, motors, drives (frequency variators), low voltage products, and its ABB accounting and administration headquarters for Spain. This explanation was given in an interview for Europa Press by the General Manager of Robotics of ABB Spain, Sergio Martín.
The new innovation center will offer jobs to up to 70 new developers in 2019, according to forecasts, and the multinational will render services from here to its clients in close to one hundred countries in which it operates. The professionals have training profiles in computing, mechanics and electronics, physics and mathematics, and will also receive specific training when hired by the company, given the demand for high qualifications.
According to estimates that have been disclosed, the company will be investing about €15 million in the construction of its new lab, which will be focused on the development of robotics solutions.
ABB develops products in the fields of electrification, robotics, industrial automation and electric networks. Through these, it contributes to introducing its clients into the so-called fourth industrial revolution, that of digitalization. In Spain it has five factories and over 2,000 employees, of which over 400 are located in Sant Quirze.