Spain was the fifth world receiver of real estate investment in 2018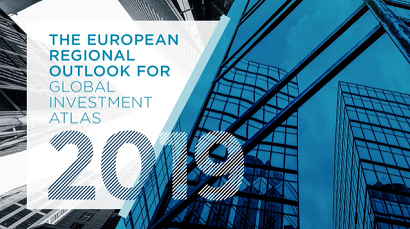 28 May 2019
The country exceeded 15 billion euros in foreign capital in a ranking headed by the United States
 Real estate investment worldwide in 2018 attained record-breaking volumes, according to the Global Investment Atlas 2019, a report prepared by the real estate consultants Cushman & Wakefield. A total of 1.75 billion dollars was traded worldwide (1.57 billion euros). With an increase of 4% over the previous year, the forecasts for 2019 and 2020 indicate that this figure will be maintained and possibly exceeded.
Spain continues its trend as an attractive market for real estate investment, and investor appetite is expected to remain solid in 2019 and 2020. Within the ranking of countries that received the most foreign real estate investment in 2018, Spain, with over 15 billion euros, is in fifth place behind the United States, United Kingdom, Germany and France.
Ranking by regions
By region, North America saw the greatest leap in real estate investments last year, to a figure of 489.14 billion euros, up 17% since 2017, whereas the region that received most investment was Asia-Pacific, with 775.81 billion euros. The EMEA region (Europe, Middle East and Africa) came third with 296.53 billion euros, 10.8% down on the previous year.
Looking forward to the next year, however, the trend is toward a change in pace, with investment expected to fall in North America and increase in Asia-Pacific and EMEA.
If we focus on cross-border investment, the figures show a clear change. The volume in 2018 was 362.82 million euros, a growth of 10.7% compared to 2017. In this segment, the EMEA region attracted 53% of the global investment.
The price of real estate assets rose this year, driven by the stability of the sector and the growth in rental prices. Investors sought refuge in a sector that can help offset the drop in interest rates that affects other financial products. Another factor that favors real estate investment is the diversification of markets fueled by globalization.
Madrid, third in the world luxury market
The French agency Barnes, specialists in the luxury real estate segment, places Madrid in 10th position in the world ranking in its Global Property Handbook report. However thanks to the positive outlook, this year it is forecast to reach third place, behind Oporto and Lisbon.
Madrid's position is reinforced by factors such as quality of life, accessibility and the education offer. Other significant factors include the interest of foreign investors, particularly Venezuelans, in purchasing and refurbishing homes before placing them on the market again, and the transfer of investments from Catalonia due to the political situation.
In 2018, the demand for luxury housing in Spain was concentrated in properties of between 150 and 500 square meters (without including the land), with prices ranging from 500,000 to three million euros. The price per square meter rose by 3% to 6,800 euros. The Golden Visa policy has encouraged the inflow of foreigners who invest in luxury real estate assets.