Spain continues to lead the way in the creation of technology firms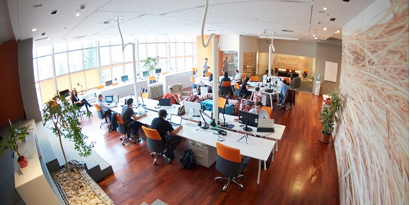 20 August 2019
Spanish companies raised over 1.3 billion euros in investment in 2018, up 67.3% since 2017
Spain continues to be a welcoming and prosperous place for new startups, according to the latest Startup Ecosystem Overview 2019 report compiled by Mobile World Capital. Barcelona and Madrid are still two of the mail poles of attraction for the creation of new companies, and cities like Valencia and Bilbao are now also beginning to follow suit.
Meanwhile, the total volume of investments in 2018 shot up to over one billion euros. Specifically, investment in Spanish technology firms was almost 1.312 billion euros, with an increase of 67.3% since 2017, when investment was 783 million euros. This figure consolidates the upward trend begun in 2013 and confirms Spain as one of the fastest growing markets for capital risk investment in Europe.
Funding rounds
The increase in investment was mainly due to the ever greater number of rounds proposed by the companies, and particularly those in pursuit of major capitals. Whereas rounds of up to 10 million euros or reduced their capital capture, as occurred in rounds of 25 to 50 million, those seeking more than 100 million raised 720 million euros in 2018, up from 250 million in 2017. According to the report, this figure highlights the continued growth and maturity of the start-up ecosystems.
The report notes that 4,115 new firms were created in 2018, of which 30% (1,235) chose Madrid for their head offices, while 29% (1,197) opted for Barcelona. The two Spanish cities came fifth and sixth respectively in the ranking of European cities, behind London, Paris, Berlin and Amsterdam. They were followed by Valencia, with 6.3% (261) and Bilbao, with 1.5% (60). The remaining 1,362 began their activities in other provinces.
Ranking of investment capture
In the ranking of European cities according to the investment raised by their companies, Madrid and Barcelona are once again in key positions. In this case, the advantage goes to Barcelona, in fifth place thanks to the capture of 871 million euros. The Spanish capital is in 13th place with 340 million euros. In total, 29 companies succeeded in raising over ten million euros in investment rounds in 2018.
According to Francisco Polo, Secretary of State for Digital Advancement: "Spain has the potential to become the next emerging nation. We have already taken the first steps. Imagine what we could do if government acted not as a barrier, but as an ally. We must continue working to create an entrepreneurial ecosystem that works in collaboration with all the other leading economic actors. This will help reduce social divisions and ensure a country where no one is left behind".