Telefónica and Dekra open a test center for 5G vehicles in Malaga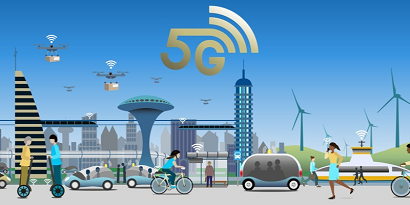 16 September 2019
This is Dekra's Global Competence Center for connected vehicles, which it hopes to make a world reference
The German vehicle inspection company Dekra has joined forces with Telefónica to open Europe's first open innovation testing and certification center in Malaga for V2X (vehicle to everything) technology for 5G communication between vehicles. The Ministry of Economy, Knowledge, Companies and Universities in the Andalusian Regional Government and the Malaga City Council are collaborating with the two companies in this initiative.
The new center will have two zones equipped with 5G technology. Both the outside circuit and the hangar will be used to carry out proofs-of-concept trials, certification and standardization for this technology, which allows vehicles to communicate with everything in their surroundings: other vehicles, people, the road, service stations, road signs, traffic lights, tolls and more.
The tests to be carried out in the center include particularly those related with connectivity and on-board services, advanced navigation and infrastructure, vehicle monitoring and maintenance, automated payments, safety and accident prevention and assisted driving and autonomous vehicles.
Dekra is already describing this as its Global Competence Center for Connected Vehicles, and the goal is for it to become recognized worldwide.
Real and laboratory-based scenarios
The proofs-of-concept trials will be conducted in the outdoor circuit with the 5G frequencies used in Spain to work in real scenarios. The startups in the Andalucía Open Future acceleration center in Malaga will also be able to make use of the facilities. The test center promoters wish to promote the entrepreneurial ecosystem on V2X technology.
The hanger will be equipped with LTE-5G network infrastructure as a laboratory, and will be offered to companies that use frequencies different from the Spanish ones so they can carry out trials and verify the correct operation of the 5G services in other environments.
A hub for attracting talent and companies
According to María Jesús Almazor, CEO of Telefónica Spain: "This initiative is intended to convert Andalusia and specifically Malaga into the laboratory of reference in Europe in developing solutions based on 5G and V2X technology for designing cases of use for connected cars, thereby becoming a hub for attracting talent and companies in a sector that is in constant growth".
Ivo Rauh, CTO and member of Dekra's board of directors, says: "It gives us great satisfaction to be pioneers worldwide in launching the testing schemes and certification of connected vehicles for V2X technologies, and to be able to cooperate closely with Telefónica, given its firm commitment to 5G and to connected vehicles".