CEX-Invest in Spain launches Rising Up in Spain
20 November 2019
Program in Spain for entrepreneurs with a minimum of 10% direct foreign investment in their capital
The application period has opened in the new call for Rising Up in Spain, ICEX-Invest in Spain's program to encourage innovative projects developed by foreigners or non-resident Spaniards intending to set up a company in Spain, or who have done so within the last year.
All entrepreneurs interested in this call must submit their applications by January 19. 2020. 
Rising Up in Spain is the first official program designed to attract international talent and the innovative business models that contribute to enriching the Spanish entrepreneurial fabric. Another of its aims is to position Spain as one of the main technology and innovation hubs in Europe.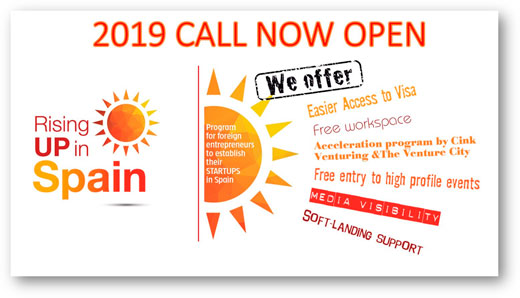 Since it was launched in 2016, the three editions of Rising Startup Spain so far have been extremely successful in terms of both the number of foreign entrepreneurs who applied for the program and the quality of their projects. Specifically, it has attracted a total of 845 companies and entrepreneurs from over 70 countries, of whom 40 startups have been selected to form part of the program so far in the three editions. The 40 winning companies are extremely diverse in terms of both their origin (20 countries, with seven participants from Argentina, six from India, five from the US, four from Colombia, three from Russia and two from Morocco, to note the most significant), and in the technology/verticals of the entrepreneurial proposals.
This most recent edition of the program, which will henceforth be known as Rising Up in Spain, offers the following services: specialized acceleration program adapted to the needs of each startup, taught by an experienced accelerator; access to a broad network of investors; free workspace for six months; assistance with the process of establishing the company in Spain; visibility in specialized media in order to become known in Spain; and support for attendance at investment forums.
Spain: an ecosystem in expansion
The Spanish entrepreneurial ecosystem is currently in an excellent position, something that has been noted by entrepreneurs all over the world. Its rapid growth and record investment figures in the last three years mean that Spain currently represents a prime opportunity for entrepreneurs wishing to develop their technology businesses in the country. The competitive advantages currently available to startups that set up in Spain include the possibility of accessing a market of over 500 million Europeans, and the country's technology infrastructures.