15 international start-ups will develop innovative projects in Spain thanks to ICEX's Rising UP in Spain program
27 April 2020
ICEX Invest in Spain has been supported by the services of the accelerator formed by the team at Cink Venturing and TheVentureCity as technical advisers for assessing the over 200 entries received from 50 different countries
ICEX-Invest in Spain's program to support the attraction of international talent to Spain, Rising UP in Spain, has announced the selection of the 15 winning international startups in its 2019 call. Due to the international COVID19 pandemic, these innovative projects will start to benefit from the program's services through the online channel until the situation is re-established and they can begin to make arrangements for their physical move to Spain.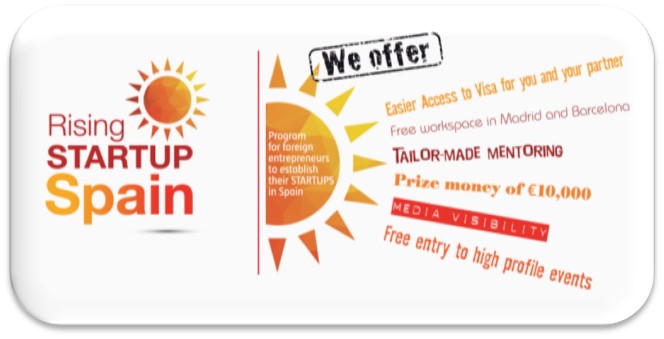 These 15 startups come from Israel, Italy, Poland, South Korea, Russia, Brazil, Colombia, United States, Portugal, Argentina, Belgium and Chile. They all propose novel services through the application of technology to a wide variety of fields such as social impact, health, transport, industry, consumption and the financial and real estate sectors.
ICEX Invest in Spain has been assisted in the project selection process by leading agents in the enterprise ecosystem and by the public institutions that support it: the Spanish Association of Capital, Growth and Investment (ASCRI), the Spanish Association of Business Angel Networks (AEBAN), the National Innovation Company (ENISA), the Ministry of Migration, Work and Social Security, and the Ministry of Industry, Trade and Tourism.
In this call the program is known by its new name, Rising UP in Spain, to highlight its new format with novel developments that reinforce the acceleration services for the participating startups and their connection with the local ecosystem and potential investors. ICEX Invest in Spain has engaged the services of the accelerator formed by the team at Cink Venturing and TheVentureCity, who provide their experience in entrepreneurship and investment in the early stages of technology projects, as technical advisers for the assessment of the more than 200 entries received from 50 different countries. Specifically, 33% of the entries came from Europe, 31% from Latin America, 20% from Asia, 7% from North America and 9% from Africa.
This year's winning startups will enjoy the benefits of the program through Cink Venturing and TheVentureCity, including support for becoming established in Spain, an acceleration course with a work space, participation in events, visibility and connection with the local ecosystem, and access to potential investors.
Rising UP in Spain thus embarks on a new stage in its development after three successful years in which it has supported 40 startups from 19 different countries: Argentina, Australia, Belgium, Brazil, Colombia, South Korea, Denmark, United States, Finland, France, Greece, India, Morocco, Mexico, Netherlands, Portugal, United Kingdom, Russia and Ukraine.
In addition, ICEX Invest in Spain offers its usual services to support the establishment in Spain for all projects which, although they are not the winners of this call, are planning to develop their productive projects in Spain.
Variety of technological fields
Although the projects that will be carried out this year are very varied, they can be grouped into four main areas of activity:
Health: improving the conditions of life of certain groups such as children (monitoring children's text messages on social networks to protect them from harassment and bullying online; Keepers, Israel), the elderly and disabled (emergency response; Aimoto, Russia), patients with respiratory disease (monitoring; Aiocare by HealthUp, Poland).
Relational (communications and transport): obtaining benefits from the novel processing of large datasets both in the communications media (digital publication using artificial intelligence; Entire Digital, Italy) and in Industry 4.0 (applied to future mobility: Dtonic Corporation; South Korea) and by connecting vehicles that interact remotely (2hire, Italy).
Company management: technology at the service of the resources themselves: digital transformation without the need for IT specialists (GoEPIK, Brazil); cloud-based food distribution centers (Muncher, Colombia); real-time monitoring of the workforce in the street (CityTroops, United States); unification of all corporate mobility services in a single application (Sincro Pool, Argentina); debt collection without using a single debt collector (Invisible collector, Portugal); increasing sales in the financial industry through the automation of references (Tink-Referral as a Service, Chile); B2B wealth management (InvestSuite, Belgium); and digitization of the booming tattoo industry (Inkdome, Italy).
Sustainability: predictive digital agriculture to resolve farming-related issues such as soil preparation, crop planning, the use of machinery, efficiency and economy in the use of resources (Agrusdata, Brazil).