Dragados Offshore and Siemens will build a conversion platform for TenneT in Cadiz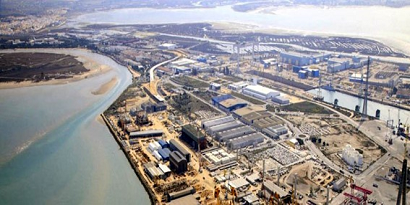 18 September 2020
This will guarantee the workload at its plant in Puerto Real until 2025. In fact, it is already building another platform for the same client at this plant
The Dragados Offshore/Siemens consortium has been awarded a contract to develop the HVDC conversion platform to be implemented in the Borwin5 offshore wind project, developed by TenneT. The consortium will be building a 900-megawatt capacity electric power transmission system.
Through this contract, Dragados Offshore will be responsible for all processes for the platform, from the detail engineering and design and the purchase of materials to its construction, loading, transportation and installation in the open sea, and subsequent commissioning. Siemens will provide the platform's HVDC equipment and develop the ground substation.
Second project for TenneT
Borwin5 is the second HVDC platform project which TenneT has awarded to the Dragados Offshore/Siemens consortium. The first platform, Dolwin6, is being built at Dragados Offshore facilities in Puerto Real (Cadiz), and it is it scheduled to be completed in 2022. This new contract will maintain the workload at Puerto Real right up to the expected date for completion of the platform, by the end of April 2025.
This new project demonstrates the value of Dragados' platform building business for the offshore wind industry. Once this new platform is completed, the HVDC system will still have to be commissioned in order to start transmitting energy—this will probably take place in the fourth quarter of 2025. Final delivery to the customer is scheduled for the first quarter of 2026.
Installation on the German coast
The Borwin5 project consists of an independent platform, which has an accommodation module and a helipad. It will have a total weight of 12,000 tons, including the Siemens HVDC equipment, on top of which is the 7,000-ton jacket . Its transmission system will connect the He Dreiht offshore wind field on the German North Sea coast with the onshore converter point.
The wind field will generate an alternating current that the offshore platform will convert into a direct current before it is transported to land, along an 120-km underwater cable. The power will still have to travel another 110 kilometers through an underground cable to the connection converter point.
Tim Meyerjürgens, TenneT's operations manager, said that: "We are very pleased to award the contract to Siemens and Dragados, two experienced and innovative companies in the construction of converters, and to NKT, a powerful supplier in the market of plastic-insulated DC cables".