Alliance Healthcare opens new offices and logistics centre in Barcelona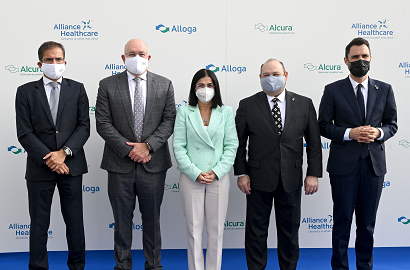 21 October 2021
This 35million euro investment increases the plant's logistics capacity by 40% 
The global health solutions company Alliance Healthcare has opened its new corporate headquarters and logistics centre in the Ca n'Alemany industrial estate in Viladecans (Barcelona). With an investment of 35 million euros, the new building occupies an area of 25,300m2, representing a logistics area of 40% to meet the demand for pharmaceutical products from pharmacies and pharmaceutical laboratories around the world.
The company belongs to the international group AmerisourceBergen, and has a history of over 100 years in pharmaceutical distribution in Spain. This plant marks the consolidation of its 28 offices throughout the country. Javier Casas, CEO of Alliance Healthcare, highlights "the contribution of this new plant to innovation in distribution logistics management through process automation". 80% of the 60,000 order lines a day for pharmacies are served by fully automated systems that offer greater speed and efficiency.
Among the infrastructure's most important new developments are the logistics resources and activities provided by Alcura, a subsidiary specialised in services for Alliance Healthcare's pharmaceutical laboratories. Specifically, the new plant houses an international hub for clinical trials, an innovative line with major growth potential that is a centre of excellence for the group and will be used to perform about 500 clinical trials a year. The new site also enables synergies between the actual distribution and other activities to support pharmacists, allowing them to carry out their healthcare role more effectively and profitably.
The operations centre also has the latest technology resources and specialised services to meet the needs of the market. The Viladecans facilities are equipped with state-of-the-art technology for the automation of logistics processes and an R&D centre of excellence, as well as cold storage and cryo warehouses with temperatures of up to -20°C for pharmaceutical products that require special treatment such as vaccines. 
Photo: Alliance Healthcare