Amazon undertakes to create 25,000 permanent jobs in Spain by end of 2025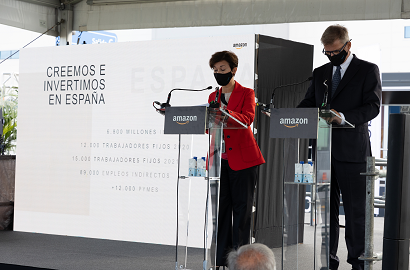 23 September 2021
It plans to train 50,000 SMEs to go digital, and to increase the number of logistics centres to 40 
To mark its tenth anniversary in Spain and the opening of its new robotic centre in Illescas (Toledo), Amazon has announced its intention to take a major step forward in creating jobs, digitalising SMEs and sustainability. The American company employs more than 12,000 people in Spain and has undertaken to increase this to 25,000 permanent jobs in Spain, and to train 50,000 SMEs and entrepreneurs in online selling by the end of 2025. In addition to these goals, the company is globally committed to operating solely with renewable energy by 2030, although it is on track to achieve this goal by 2025.  
The company is looking to recruit a wide variety of profiles and skills levels, from operations employees to software developers and engineers, business managers and data scientists, as well as cloud computing experts and solution architects for Amazon Web Services. "It is not only large urban areas that are benefiting from the economic impact of Amazon, but smaller cities and towns in different areas of Spain are also seeing a fall in unemployment rates and the positive effect generated by the company in the community", explains Mariangela Marseglia, vice president and general manager of Amazon in Spain and Italy. Amazon also offers new opportunities for many young people who are struggling to find work. "In addition to our direct investments, Amazon has contributed 8.3 billion euros to Spain's GDP in the last ten years", she adds.
Products sold by SMEs today represent 60% of all the units sold in Spain. Over 12,000 Spanish SMEs currently sell on Amazon, about half of which export their products worldwide, earning more than 650 million euros in international sales in 2020. Spanish SMEs selling on Amazon have created 30,000 jobs in the country to date. In 2020, Amazon invested 2.8 billion euros in logistics, tools, services, programs and training in Europe to help SMEs succeed with their businesses. More than 5,500 SMEs used Amazon's logistics in Spain during the past year and were able to boost their sales by 30%.

Photo: Amazon