Bayer opens gene therapy plant in San Sebastián for exports to whole world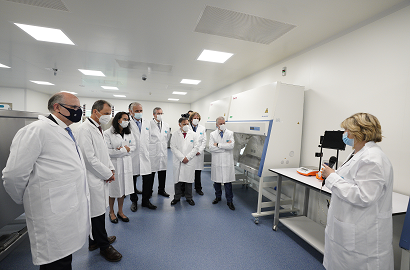 13 July 2021
It will make a total investment of 120 million euros through the local company Viralgen
The German group Bayer has opened a new gene therapy plant at its Spanish subsidiary Viralgen, in San Sebastián, thereby increasing its capacity five times and allowing complete coverage of projects from the preclinical phase to commercial production. The German company acquired the San Sebastian firm last year and has planned a first-phase investment of 70 million euros for this expansion, which will reach 120 million euros when the next two phases are completed. It will initially provide 130 new and highly qualified jobs at the company, which together with the current workforce will represent a team of 250 people. It will become the German pharmaceutical company's main manufacturing point in the world for  this type of therapy.
Viralgen was established in 2017 thanks to a joint venture between AskBio and Columbus Venture Partners, based on production technology developed by the co-founder, Dr Richard Jude Samulski. It is the first Spanish company based in the Basque Country specialized in the production of AAV (adeno-associated viruses) for gene therapy. Javier García, CEO of Viralgen, considers that the expansion will allow the company to position itself "as world leaders of CDMO (Contract Development and Manufacturing Organization) in the field of gene therapy with AAV. Production is a real bottleneck in the market and we are going to offer a complete service at a very competitive cost for our clients. This is going to greatly benefit patients around the world. "A piece of news that also benefits the city of San Sebastián because it has the potential to become a centre of innovation for biotechnology and life sciences in Europe and the world.
Wolfram Carius, Bayer's executive vice president of cell and gene therapy, has highlighted the importance and impact of Viralgen on the economy of the Basque Country and Spain, and enthusiastically supports the company's commitment to the region where it is located. "Viralgen will play a key role in developing Bayer's growing cell and gene therapy business and will help other companies succeed in bringing their ideas to market," he said.
Validation activities for the equipment and certification of the facilities will be carried out throughout 2021 and early 2022. The first 2,000-liter commercial grade batches will hit the market in mid-2022.
Photo: Bayer