Siemens opens CESENA Centre of Excellence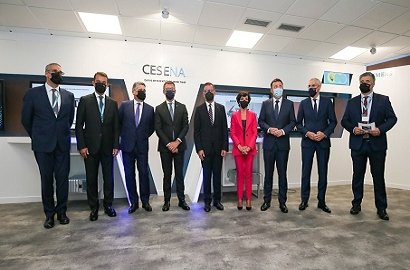 05 October 2021
It will attract international talent to become the sector's driver of digital transformation
Siemens has opened the Centre of Excellence for the Maritime Sector (CESENA) in Ferrol (Galicia), equipped with the latest technology to improve all phases of the ship design and construction process. The aim is to transform the entire value chain of the Spanish maritime industry and make it significantly more competitive. Nearly 50 Siemens engineers will be assigned to this centre, and will contribute their international knowledge and experience. The centre will become part of the network of global centres of excellence that the company already has in other leading shipbuilding locations such as the United States, (Newport News, Virginia), Germany and the United Kingdom.
"CESENA will work on developing future solutions for the Spanish maritime sector and encourage collaboration between the various stakeholders in the industry: shipyards, universities, research centres, associations, shipowners and public bodies", explains Miguel Ángel López, CEO of Siemens Spain. The new centre is the result of the commitment made by the company to Navantia in November 2019, when both companies signed an agreement to advance the digital transformation towards the so-called "Shipyard 4.0", which has led to the full implementation of the digital twin in the new F-110 frigate programme, thereby meeting the requirements of the Spanish Navy.
The start of activities at CESENA continues and reinforces the work begun by Siemens a few months ago to improve the standards of training in naval technologies, following the agreement signed with the Cádiz Naval Maritime Cluster (CMNC). This centre will advance the digitalisation of the work processes in Spanish shipyards through the use of programs and technologies such as NX, TeamCenter, OpCenter, SimCenter and Tecnomatix, all part of the Xcelerator portfolio.
Some of Siemens' latest transactions confirm its commitment to Spain and the maritime sector with a long-term investment. Last July it acquired its FORAN software business from the Sener Group for the design, construction and engineering of ships and marine structures. The company, together with Navantia and Pymar, has also presented a comprehensive plan to apply for public aid from the Next Generation EU Funds.
Photo: Siemens