Cooperation between Spain and Japan in field of innovation and digital transformation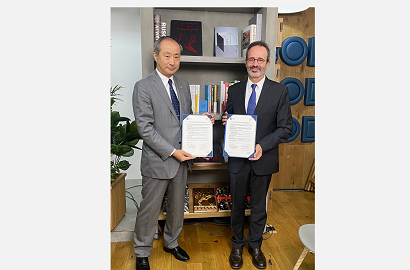 29 September 2021
The Spanish Economic and Commercial Office in Tokyo and the Nomura Research Institute, Ltd. (NRI), a leading company in the field of technology consulting in Japan, have signed a memorandum of understanding to promote the exchange of technology, knowledge and experience in the field of innovation. 
The collaboration between the NRI and the commercial office specifically aims to improve business relationships in the fintech, Smart City, energy, foodtech and digitalization sectors. 
Both parties have been collaborating periodically since 2020 to promote meetings between companies. The first meeting, "FinTech in Spain", took place on 12 November of the same year, and featured talks by Banco Bilbao Vizcaya Argentaria (BBVA), a renowned leader in DX, and presentations by Spanish digital financial security startups. 
On this occasion, and coinciding with the signing of the memorandum on 29 September 2021, a joint event organised by WAYRA and the Nomura Research Institute included two sessions: "WAYRA's innovation strategy and future efforts", and "Digitalisation and the DX market in Japan", plus a "Pitch by Spain" session presenting three leading Spanish startups in the digital sector to Japanese investors.
They will continue to hold events in the future to present innovative products from Spanish companies and to act as a bridge for mutual business exchange.
Photo: The Spanish Economic and Commercial Office in Tokyo