Cummins to establish electrolyser plant in Spain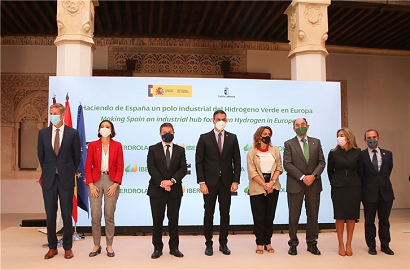 02 June 2021
The U.S. company will partner Iberdrola in leading the green hydrogen value chain
The world energy leader Cummins has chosen Castile-La Mancha for the location of one of the largest electrolysis plants in the world for the production of green hydrogen. Sites in the province of Guadalajara are being analysed and an investment of 50 million euros is envisaged. The plant will be used for the assembly and testing of systems designed to produce 500 MW/year, with the aim of increasing this capacity to more than 1GW/year. Initially occupying an area of 22,000 m2, it is expected to be operational in 2023 and will create 350 new jobs as production increases.
The announcement of this investment follows a decision by Iberdrola and Cummins to become partners in large-scale green hydrogen production projects in the Iberian Peninsula that will make Spain a technology and industrial leader in this market segment. "Spain provides a strong and dynamic local environment for green hydrogen production and we are excited to invest here and significantly increase our manufacturing capacity in Europe," confirmed Tom Linebarger, President and CEO of Cummins, during the announcement of the project. "Our partnership with Iberdrola will connect us with a major clean-energy company and strategically position us to play a leading role in Europe in green hydrogen production," he added. Ignacio Galán, President and CEO of Iberdrola, reminded us that this joint initiative "will contribute to economic and industrial development and the creation of high-quality employment in the region, as well as strengthening our major innovative commitment to decisive technology for the decarbonisation of the industry".
 As part of this alliance, the 230 MW green hydrogen project in Palos de la Frontera (Huelva), which Iberdrola has projected for Fertiberia, a leading fertilizer manufacturer, will become a benchmark for large electrolysis projects. Iberdrola identified Cummins in this respect as a suitable supplier of electrolysers for this initiative. With the experience gained in this project, Iberdrola and Cummins will collaborate jointly in the design of solutions for large electrolysis projects. Cummins and Iberdrola are already working on a hydroelectric project in Barcelona (Spain) and foresee opportunities for more ambitious collaboration in the future.