Decathlon opens new continental warehouse in Spain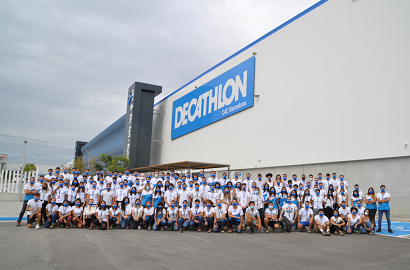 08 October 2021
It is located in Barcelona, and the project represents an investment of 53 million euros
The sports equipment distribution company has a new continental warehouse in Spain. Built by CILSA, a company that manages the ZAL Port and owned by the Port of Barcelona and Merlin Properties, it is located in the city of Barcelona itself, just ten minutes from the airport and next to the Port of Barcelona. With a total investment of 53.4 million euros and built in just 14 months in the middle of the pandemic, Decathlon's new continental centre has been developed using BIM technology, following the strict criteria of energy efficiency, sustainability and healthy working conditions specified by the US Green Building Council's LEED PLATINUM certification. The elements used include PV solar panels for self-consumption, an integrated building management system to control the artificial lighting through adjustable low-consumption LEDs with presence sensors, and construction materials respectful of the carbon footprint.
Marc Mata, manager of Decathlon's new continental centre, notes that they have a team of over 325 collaborators "who have made it possible for us to launch a project of this magnitude in record time. We have also reinforced the team with 51 new employees, who will be joined by another 20 logistics staff in the coming months". Daniel Mangas, Decathlon Spain's head of logistics transformation, points out: "The new continental centre is one of Decathlon's first steps in the important process of logistics and value chain transformation until 2024, which was launched this year. Together with the rest of the internal processes, this new project will ensure we are prepared for the new challenges and needs up ahead".
This warehouse is equipped with modern technology for logistics activity, and consists of two buildings, each with an area of 46,610 m². There is also a service building with a floor area of 2,767 m², which includes the ground floor and an office floor, the corridor connecting both spaces and the technical rooms. It has general headroom of 11.3 m, 112 state-of-the-art bays with an automatic lorry restraint system, and four van unloading bays with automatic sectional doors and exterior shelters.
Photo: Decathlon