Diamond Foundry chooses Spain for diamond factory project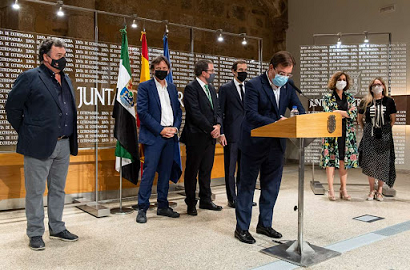 13 September 2021
The factory is expected to start up in 2023 and create 1,000 direct and indirect jobs
The American company Diamond Foundry has chosen the Spanish town of Trujillo to set up a plant to manufacture diamonds using plasma reactors, mainly for use as semiconductors in the high-tech field. The company, which will have a surface area of 30,000 square metres and will createaround 300 direct jobs and 700 indirect jobs, will involve an investment of 670 million euros and will take two years to build. "We have land, water, sun, political and public security, people ready to work, environmental and urban planning laws and administrative simplification. We have better cards than 50 years ago, now it depends on us, on our ability to make it possible", said the president of the Junta de Extremadura, Fernández Vara, during the signing of an agreement with the American company and the Ministry of Industry.
The Secretary General for Industry and SMEs, Raül Blanco, highlights that "this is a pioneering project worldwide in terms of technology and shows Extremadura's industrial capacity for the future and adds to other projects being carried out in the field of energy and batteries. It will place Spain at the forefront of the sustainable diamond industry. Moreover, at a time when Europe is suffering from a lack of semiconductors, this initiative is key for Spain and for the European Union. As explained by Martin Roscheisen, CEO of Diamond Foundry, his company has chosen to locate in Trujillo because the area has sufficient capacity to generate the electricity from renewable sources required for the project.
The energy company Powen is also involved in the project and will be responsible for building the solar self-consumption plant, which will have a total capacity of 120 MW and a hybrid battery system with a capacity of up to 60 MW in  regional and national authorities. The project is sustainable because the factory will be powered by the photovoltaic plant, so that the diamonds will be produced in a 100% sustainable and carbon neutral value chain. The factory will mainly manufacture diamonds for semiconductors, using technology such as 5G and electric cars and has explained that the project is currently at the stage of applying for the necessary permits. These diamonds are ready in 6 to 10 weeks when cultured with a plasma that reproduces the pressure and heat conditions necessary for their creation.
Municipal sources have confirmed that Diamond Foundry officials have already set up an office in Madrid to study the possible conditions and difficulties that may arise in the project. 

Photo: Junta de Extremadura