DoveVivo includes Spain in international expansion plans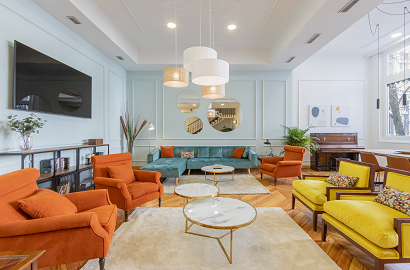 18 June 2021
Its first co-living building in Spain already has an occupancy rate of 90%
DoveVivo, the largest co-living company in Europe, aims to become a benchmark brand in Spain this year. The company's project expects to have more than 18,000 beds in Europe, 2,800 of which will be in Spain, both in homes and in co-living buildings. The success of its first building in Spain, with an occupancy rate of 90%, confirms the growth of this new trend in the European market.
The Italian company based in Milan started to operate in Spain just a few months ago, after acquiring local operator Oh My Place! It started its operations managing a building that had been fully refurbished, with 44 rooms and a gross floor surface of 1,600 sq m, located on Calle San Lorenzo, Madrid. "We have respected the essence of this building and enhanced the characteristics that make it unique in its kind; the light, the height of the ceilings and some of the original furniture, which have been restored by the expert hands of local artisans", said Irene Trujillo, Director of Operations at DoveVivo Spain. After the success of this building, the company soon confirmed that it would also start managing another building, also in the centre of Madrid.
DoveVivo manages over 1,500 properties and has an 8,000-bed portfolio in 13 cities. Its innovative model is capable of combining product features with technology and services (such as 24/7 cleaning assistance or maintenance, among others). Co-living buildings offer a blend of private spaces, such as apartments, rooms or studios, and shared spaces, such as fitness rooms, coworking rooms and study rooms or lounge areas.

Valerio Fonseca, founder and CEO of DoveVivo, believes that "the co-living industry still has a lot of room for growth, since only a part of the demand is covered by professional suppliers". The company's growth strategy is to reach €100 million by 2023 (with an annual growth rate of around 40%-45% in the coming years). Valerio Fonseca also mentioned that "we are convinced that our development plans will also be of interest to various stakeholders in the Real Estate industry, as well as to financial and real estate investors".
Photo: DoveVivo