Eni buys three PV solar energy projects from X-Elio in southern Spain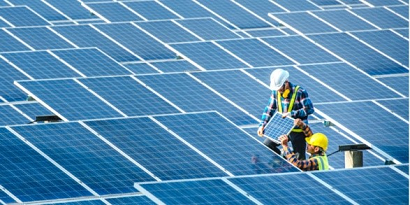 15 March 2021
They have a total capacity of 140 megawatts and are the first step in a strategic collaboration
Just one month after its subsidiary Eni Gas e Luce arrived in Spain, the Italian multinational Eni has reached an agreement with Spain's X-Elio for the acquisition of three PV solar energy projects in southern Spain, totalling 140 megawatts.
Eni's commitment to renewable energy in Spain goes even further, as both companies are currently in talks to create a broader strategic collaboration for project development. The Italian company aspires to attain one gigawatt in the next five years.

Joint development
For the time being, Eni and X-Elio will jointly develop the 140 megawatts already agreed. The Spanish company has built over one gigawatt in renewable energy facilities in Spain, and has another 250 megawatts in development. It is currently one of the world's leading renewable energy developers.
Under the new agreement, the project transfer will be subject to the usual authorisation in the second half of 2021. Eni will be responsible for building the plants and marketing the electricity. It will probably do so through its subsidiary Eni Gas e Luce, which in January became established in Spain thanks to its purchase of 100% of Aldro Energía. This marketing company sells electricity, gas and home services to individuals and companies in Spain and Portugal.

Support for the energy transition
According to Claudio Descalzi, Eni's CEO: "This initiative greatly reinforces Eni's presence in the Spanish market with a remarkable investment in the renewable energy sector, and it complements the existing businesses already established in the region. The development of PV solar energy projects is consistent with our strategy in support of the energy transition and is a key element of Eni's commitment to reducing CO2 emissions. This acquisition also paves the way for the future deployment of synergies between the energy and gas retail business".
Arancha Martínez, X-Elio's country manager in Spain, says: "We are delighted to be able to work with Eni on these projects. This collaboration is evidence of X-Elio's quality and know-how in our domestic market. We are clearly committed to developing new projects in the country, and will continue working to promote the energy transition in Spain through PV solar energy".

Eni is on the point of reaching an agreement for an amicable settlement of its disputes with Unión Fenosa Gas. This step will allow it to start marketing natural gas in Spain for the industrial and thermoelectric sectors and for wholesalers in the near future, thereby enhancing its presence in the European gas market.