Esparity Solar to Invest Over 320 Million Euros in Nine Solar Photovoltaic Farms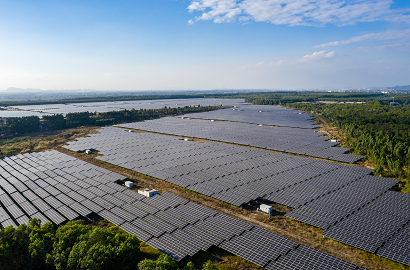 02 December 2021
Its first plant will be in Navarra, with a capacity of 150 MW, and will create 480 jobs
Esparity Solar, the Spanish subsidiary of the British investment group Esparity, plans to invest between 320 and 380 million euros in nine solar plants in Spain. Five of them will be located in different towns in the Valencian Community (4 with 50MW and 1 with 36MW), two in Andalusia (both with 50MW), one in Castile-la Mancha (100 MW) and one in Navarra (150MW). The latter of these, the most powerful one, will be located in the town of Cordovilla in Navarra and will involve an investment of approximately 100 million euros.
The Navarra project is expected to have a positive impact on the region, creating approximately 480 jobs in the development, construction, operation and maintenance phases. It will achieve emissions savings of over 2m tonnes of carbon during its life cycle, the energy generated annually by the plant being equivalent to the consumption of 80,000 homes. Collaboration agreements have been reached with local companies for this project to establish apiaries within the perimeter of the facility and promote the integration of beekeeping in the area. This will allow natural pollination in an environment with a rich biodiversity in aromatic and endemic species, thereby contributing to the good health of the apiaries. Aromatic species that could be useful for the local economy will in addition be incorporated into the Cordovilla solar park, to be used for research purposes by educational communities and to generate knowledge about the integration of renewable energies and the agroforestry ecosystems present in the area, given their complementary relationship with the installation.
According to James Sibony, CEO of Esparity Solar, the company's commitment "is to decarbonise the environment by encouraging the transition, where solar PV is the most economical technology and while respecting the environment and the ecosystem of the area". The company has its headquarters in London and its shareholders include international investors with experience in the industry, such as some partners of the Australian renewable energy company Esco Pacific, which has installed more than 700 MW in that country and is owned by Shell. Its long-term plans in Spain include  studying projects to achieve 2.6 GW through solar plants.
Photo: Esparity Solar