Spain to be first European country to deploy European Battery Academy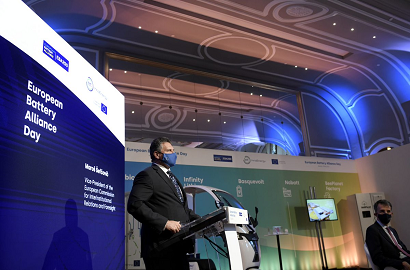 03 June 2021
Around 150,000 workers to be trained over the next five years in the field of batteries through the School of Industrial Organization (EOI).
The EBA250 Battery Academy, the first training platform in Europe in the field of battery manufacturing for electric vehicles, will start operating in Spain as a result of the agreement signed by the School of Industrial Organization (EOI), part of the Ministry of Industry, Trade and Tourism, and EIT InnoEnergy. This training project by the European Battery Alliance has already held more than 30 training courses since 2018 in collaboration with leading European companies and organisations in the industry, and it offers its services through those local centres specialised in training workers.
It is estimated that around 800,000 workers in Europe will need to be trained by 2025 to implement all the industrial projects (more than 70 at present) being deployed in Europe. "In 2018, EIT InnoEnergy was mandated by the European Commission to coordinate the industrial dimension of the European Battery Alliance and to develop specific initiatives to accelerate the development of the entire European value chain and make it more competitive. One of these initiatives is the EBA250 Battery Academy, which will now embark on this pioneering venture  in Spain, thanks to this agreement with the Ministry of Industry through EOI", explained Diego Pavia, CEO of EIT InnoEnergy, at the signing of the agreement.

With the first steps of the EBA250 to be taken in Spain, around 150,000 workers will be trained over the next five years in the battery industry. A great challenge and an enormous opportunity for Spain, where the automotive industry represents 8.5% of GDP and 9% of employment, manufacturing around 2.8 million vehicles per year. "I'm proud of Spain's very active role in the European Battery Alliance. Industry is leading the way and focused on creating innovative market-driven projects and developing skills through partnerships," said Maroš Šefčovič, Vice President for Institutional Relations and Foresight at the European Commission and the driving force behind the European Battery Alliance. In the opinion of the Secretary General for Industry and SMEs, Raül Blanco, "This agreement will allow participants to retrain and be trained in the new activities generated around the battery industry."

Photo: European Comission