Ford continues to move its Valencia plant towards electrification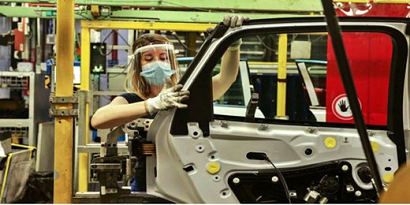 13 April 2021
Plans to manufacture a hybrid engine from 2022 and invest 5.2 million euros to reinforce its battery assembly
Ford's factory in Almusafes (Valencia) continues to play an important role in the company's plans for electrification of the automotive industry. At the end of 2022, another 2.5-litre propulsion engine will be added to the production of the 2 and 2.3-litre hybrid engines leaving this plant, as announced at the end of March.
The new Duratec 2.5-litre hybrid engine is currently manufactured in Chihuahua (Mexico). Almusafes will be the first plant in Europe to produce this type of component, which will supply models such as the Kuga, Galaxy and S-MAX. Its production will be accompanied by an increase in the assembly capacity of battery packs at these same facilities.

Increased demand
A surge in the demand for electrified vehicles has prompted the company to invest 5.2 million euros in the Valencian factory to increase its battery pack assembly capacity. This facility began operating in September 2020, after an investment of 24 million euros.
The U.S. company plans to make 100% of its motor vehicles in Europe fully electric or plug-in hybrids by mid-2026, and all of them solely electric by 2030. According to Kieran Cahill, Ford's vice president of manufacturing in Europe: "Today is another step on Ford's electrification journey, providing a bridge to an all-electric passenger vehicle future, and demonstrating our continuing commitment to our manufacturing operations in Valencia, where we have invested around three billion euros since 2011".

Changing tastes
The company has detected a change in the preferences of European consumers that not only affects the type of motorisation. While electric versions now account for 50% of models such as the Kuga, there are also changes in the types of vehicles drivers are choosing. There were 39% SUV models and crossovers in brand sales in 2020, up 8% from 2019.
This change in preferences has led the company to begin progressively eliminating its Mondeo model from the market, assembly of which will cease in March 2022. All other large cars will remain in production. Fully hybrid versions of the seven-seater Ford Galaxy and Ford S-MAX have recently been released in fact.