Goodman to develop mega logistics centre in Madrid for GLS headquarters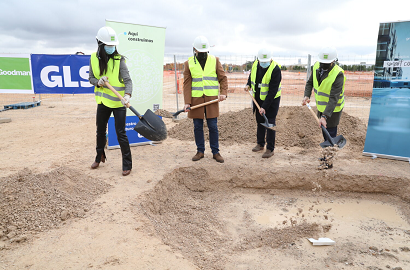 01 December 2021
It is part of an ambitious rehabilitation project that has received an investment of 150 million euros and will create 600 jobs
US real estate developer Goodman is building a logistics centre on the site of the former Iveco Pegaso factory in Madrid that will be the first hub for parcel delivery firm GLS in Spain. This facility is part of an ambitious project to revitalise an industrial site covering over 168,000 square metres that, has so far involved an investment of 150 million euros.
The building, the second forming part of the Madrid Gate Logistics Centre complex, will have more than 340 loading points and will be prepared to accommodate a flow of 3,900 vehicles per day. With a planned investment of 91.9 million euros, these facilities will unify the business activity of the current GLS centres in Coslada and San Fernando de Henares. "Ecommerce needs versatile infrastructure and this centre serves to fulfil present and future requirements," said Goodman Country Manager for Spain, Ignacio García Cuenca. He emphasised that Madrid Gate 1 is an emblematic project for the city and for the company, as it will give a new life to some wasteland and at the same time support GLS's business. "We are committed to projects that minimise the natural use of land and allow for more sustainable and efficient use. We design our developments with a long-term vision and meet the highest quality standards in order to offer our customers, such as GLS, the most innovative and appropriate solutions for their needs," he added.
The new GLS headquarters will be equipped with the latest logistics technology to accommodate and handle over 1 million shipments per day, thereby increasing the capacity of the agency network and preparing for the double-digit economic growth expected in the coming years. The development will be completed in October 2022, just over a year after the acquisition of the land. During the official opening of the work, the Deputy Mayor of Madrid, Begoña Villacís, pointed out that "with this project, Madrid is at the forefront of logistics for the future, attracting investment and generating employment in a key, rapidly developing sector, whilst also revitalising a strategic area for the city that has been disused in recent years".
With 38.6 billion in assets under management and 372 properties under management, Goodman is the largest industrial real estate group listed on the Australian Stock Exchange, and one of the largest listed specialist fund managers globally. 
Photo: Goodman