Google Cloud to be technological partner at Artificial Intelligence centre created by Minsait and University of Granada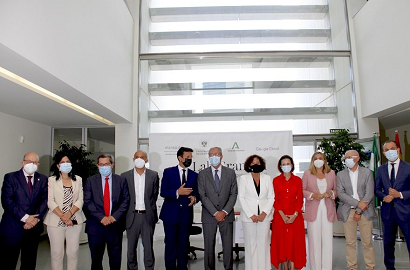 26 July 2021
It will develop solutions to increase the efficiency and sustainability of companies, public authorities and society
Google Cloud is to be the technology partner of AI Lab Granada, one of the largest and most advanced artificial intelligence development centres in Europe, created by the Indra company Minsait and the University of Granada. The centre will be located in the Bioregion building in the Granada Health Science Park, with more than 4,000 square metres and housing more than 100 scientists with PhDs in Artificial Intelligence, as well as 165 consultants, developers and researchers. Eight of the ten leading university researchers in Spain in the AI field will work on the project. From the outset it will focus on promoting an ecosystem of startups and entrepreneurship that will foster the transfer and exchange of knowledge, technologies and use cases. 
As a technology partner, Google Cloud will provide a suite of its AI and advanced analytics solutions to complement the centre's cloud computing and storage capabilities. This collaboration will also involve Google Cloud experts, who will participate in the different activities, tutorials and events organised by the centre, as well as in training in a number of fields. Google Cloud will also award Cloud Credits, which will be used in projects developed at the centre and technical training sessions. Minsait will be responsible for management of the Granada AI Lab, providing the project with highly qualified professionals and its own platform called OnesaitPlatform, which is operational in the products and solutions that Indra markets globally to accelerate the digital transformation of companies and institutions.
Jose Luis Flórez, Director of Artificial Intelligence at Minsait, told us that "Granada AI Lab will continuously create innovative solutions in AI, with a profound impact on companies and society and according to criteria of sustainability and ethics, combining the best research talent, the most advanced technology and the real challenges  presented by the organisations participating in their day-to-day activities". It is expected to become a bridge between science and the market, with technology leaders in AI and advanced computing and open to participation by startups.  The Vice-Rector for Research and Transfer at the University of Granada, Enrique Herrera Viedma, feels this public-private centre deserves a special mention as it is unique in Europe and was created "for the purpose of being an 'AI Innovation Tank', promoted by a leading international university in Digital Technologies and AI; a strong national company that is a leader in Digital Technology and AI innovation, and a leading international company in digital technology and AI that is in a continuous process of global innovation." This centre will also play a significant role in the process of national recovery that is now beginning with Next Generation funds, and "puts Granada and Andalusia on the map of the most advanced technology regions for AI in Europe", he added. 
Photo: Minsait