GoStudent online private lesson platform reinforced in Spain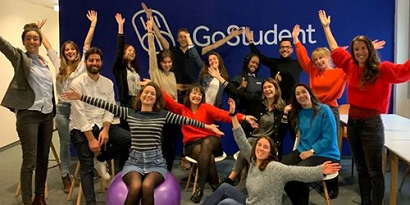 20 April 2021
It continues to expand its team in Madrid after capturing 70 million euros in a series B round
The online private class platform GoStudent has continued to grow by around 100% per month since it arrived in Spain in 2020. The success of this initiative, launched just five years ago, has led to a rapid expansion that in this last week has now reached twelve countries.
The Austrian company began its international expansion in 2017, when it had 500,000 students. It arrived in Spain after attracting more than 13 million euros in a funding round involving investors Left Lane Capital and DN Capital. Thanks to this funding it was also able to quadruple its staff to a total of 160 employees, and open up in the French market.

New round of funding
The platform, which puts students and teachers in touch with each other, closed a new round of series B funding in the last days of March, in which it captured 70 million euros. Led by US investor Coatue, it once again featured the participation of Left Lane Capital and DN Capital.
One of the objectives of this round was to open up new markets. In fact, in just two weeks the company has already started operating in Greece and Turkey, and will soon do so in the Netherlands. A staff increase is also planned for Spain, with positions already open on its website. The business continues to grow in Spain by 100% per month.

Increased workforce
The company's international workforce has grown to 300 employees since December, and is expected to reach 800 by the end of this year. The investment will also serve to reach 15 countries and increase the number of online classes, which already exceed 250,000 per month.
Felix Ohswald, co-founder and CEO of GoStudent, says: "The series B investment makes us the best-funded consumer K12 education start-up in Europe! We are thrilled to receive such high confidence from existing and new investors on our way to revolutionising education worldwide. Our growth targets this year are enormous – the 70--million euro investment  will enable us to position GoStudent as the top player in Europe for making high-quality education widely accessible".