Government committed to attracting and consolidating foreign investment with high added-value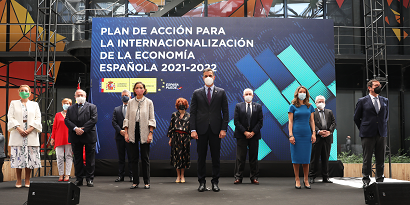 01 June 2021
One of the six main features of t Action Plan for the Internationalisation of the Spanish Economy 2021-2022
The Action Plan for the Internationalisation of the Spanish Economy 2021-2022 seeks to attract and consolidate foreign investment with high added-value. Approved by the Council of Ministers on 11 May before being presented at ICEX by the President of the Government, Pedro Sánchez, this plan is the basis of the government's support for internationalisation. It aims to maximise the contribution of the external sector to growth and job creation structurally, as well as improving competitiveness. It constitutes the medium to long-term strategic framework for planning policies to support internationalisation, enabling the coordination of the different stakeholders involved, particularly public-private partnerships, and improving companies' access to the different support instruments.
One of the six main features of the plan is to attract and consolidate foreign investment with high added-value. Policy advocacy will be promoted to achieve this and to contribute to improving the business climate. Strengthening the aftercare strategy and retaining investment already present in Spain is also under consideration. A programme will also be implemented to attract foreign investment projects linked to ecological transition, digitalisation and reindustrialisation. With this in mind, meetings will be held at the headquarters of foreign companies identified as potential investors in Spain. Meetings will also be organised with companies and investment funds on specific business opportunities, and with specialists from the sectors involved.
Another aspect considered will be the search for financial and industrial partners for Spanish companies. This work, aimed at combining the interests of Spanish companies and foreign investors, will be carried out through both the ICEX-Invest in Spain investor network database and by involving the Economic and Commercial Offices so that they can look for potential investors interested in business opportunities in their respective areas that arise at any time. And special attention will be paid to the strategy of attracting investment from Latin America with a plan for headquarters and investment funds.
Requirements and opportunities
During the presentation of the plan Pedro Sánchez highlighted public-private partnership as one of the key factors for promoting the external sector in the recovery of the Spanish economy in this post-Covid era and consolidating it as "the driving force behind development". He recalled the demands and opportunities that have been generated since the pandemic and that specifically involve establishing the external sector as a key factor to accelerate the transformation of strategic industries such as tourism, motor vehicles, the audio-visual sector and health; as well as how to increase resilience by helping companies along the path towards digitalisation.
In addition to enhancing the attraction and consolidation of foreign investment, the plan is guided by five other main areas: providing specific support for internationalisation adapted to the needs and profiles of SMEs; incorporating innovation, technology, the brand and digitalisation; developing talent for internationalisation; strengthening the coordination and complementarity of the actions carried out by the most significant stakeholders and taking advantage of the improved business opportunities that arise from the opening up of markets.