Henkel opens its new automated logistics centre in Barcelona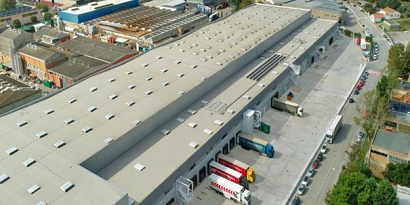 02 March 2021
The warehouse is now its southern European logistics hub for the laundry & home care division
The German multinational Henkel has opened a new automated logistics centre in its facilities in Montornés del Vallés (Barcelona), which will cluster all the operations of its laundry & home care divisions for southern Europe. This division markets well-known brands such as Wipp Express, Dixan, Tenn and Vernel.
The new warehouse expands the company's capacity in this locality, and the aim is for it to become a benchmark for logistical innovation and sustainability. One of the advantages it will bring the company will be to increase its competitiveness by automating processes thanks to the latest Industry 4.0 technologies. These innovations will also help improve efficiency in response to potential increases in production and exports.

New shopping habits
With the launch of this centre, the company aims to be able to give an adequate response to people's new shopping habits, and particularly the rise of e-commerce. This warehouse is equipped to manage over one million pallets per year and will make daily use of new digitisation, robotisation and other technologies to reduce order response times.
Three differentiated areas will bring flexibility and versatility to the new automated warehouse: the first – fully automated – occupies about 8,500 square metres; the second – conventional – covers 10,500 square metres; and the third will be used for picking and co-packing.

Zero-emissions company
The efficiency of the new warehouse is not measured simply by its response to the market for the purpose of improving sales. The environment also plays a significant role, an area where the multinational has set itself another ambitious goal: to reduce its carbon footprint throughout the value chain by 75% by using renewable energy whenever possible, until it becomes a zero-emissions company by 2040.
Efficiency and renewable energy have consistently been part of the design of the new warehouse to make it as sustainable as possible. So far, it has already succeeded in reducing its carbon footprint by 90% by implementing a centralised logistics model to minimise internal displacements and reduce distances. The building also has 80 solar panels that power the battery chargers of the machinery and its 100% LED lighting.