Japanese firm Hitachi Rail to maintain new ILSA trains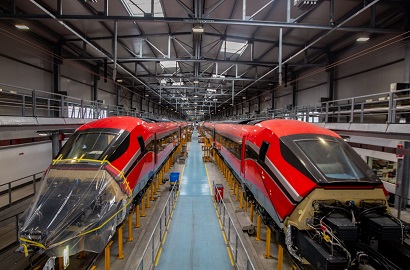 27 October 2021
The work will be carried out at Hitachi Rail's facilities in Spain, creating around 75 jobs
Japanese firm Hitachi Rail has secured a contract for the maintenance of the 20 new ETR 1000 trains run by ILSA, the private operator on Spain's high-speed train network. The agreement between the two companies is for 30 years and is worth 737 million euros. ILSA's new, state-of-the-art fleet will undergo full maintenance in Madrid by a team of around 75 employees. Maintenance on the trains will include predictive and corrective activities to ensure the highest levels of reliability, safety and comfort for passengers.
"The agreement represents another step forward in the development of the first private high-speed operator in Spain and pays testament to the company's commitment to maintaining a high level of demand, both in train operating and the comfort of passengers," stated Carlos Bertomeu, Chairman of ILSA. He considers that the award of this contract "is further proof of our commitment to connectivity, industrial development and the creation of jobs in Spain". Edoardo La Ficara, executive officer of Hitachi Rail's Operation Service & Maintenance division, said that the agreement "allows us to contribute with our customers to the development of mobility in the countries in which we operate, both in terms of the growth of high-speed train travel and in respect for the environment."
ILSA will launch operations in the second half of 2022 and will connect Madrid, Barcelona, Valencia, Alicante, Seville, Malaga and Cordoba. The first train is already in Spain undergoing approval tests and the second and third trains will arrive before the end of 2021. The entire fleet is being manufactured by Hitachi Rail and the Alstom Group at Hitachi Rail's factory in Pistoia (Italy) and Alstom's factory in Trápaga (Vizcaya).
Photo: ILSA