Intership orders a ship from the Zamakona shipyard in Bilbao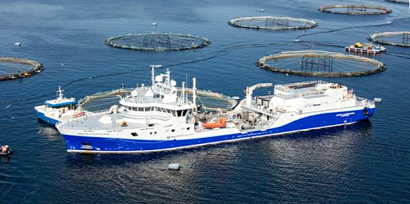 15 February 2021
The vessel is designed for the transport of live fish and will have a capacity of 2,500 cubic metres
The Norwegian aquaculture company Intership has ordered a new vessel from the shipyard Zamakona Yards Bilbao. This is a wellboat-type vessel, used for the transport of live fish and requiring certain characteristics, such as a water circulation system and various solutions to promote the welfare, handling and biosecurity of the fish, which are the shipowner's highest priority.
The new vessel, based on a blueprint by Salt Ship Design, will also be equipped with energy recovery solutions and large batteries to allow hybrid operation. It will have a reverse osmosis system for freshwater production and a low operating draft relative to its size so it can move in shallow waters. All this in a hull with a total capacity of 2,500 cubic metres, a length of 76 metres and a beam of 17 metres.
Strong pipeline
The Zamakona Yards shipyard will build the vessel at its facilities in Santurtzi (Vizcaya). The company has two other centres, in Pasajes (Guipúzcoa) and Las Palmas de Gran Canaria (Canary Islands). It is scheduled for delivery in the fourth quarter of 2022, when it will be the second ship received by Intership that year.
Pedro Garaygordobil, CEO of Zamakona, says: "Zamakona has strengthened its position as a reputable shipbuilder. Intership's new contract represents a major success for our company and allows us to maintain a strong pipeline for the next two years".

Sustainable mindset
Ole Peter Brandal, Intership's CEO, highlights the features of the new commission: "Intership has a sustainable mindset and the contracting of a wellboat with one of the market's largest battery packages is a big step towards a greener profile for both us and the industry as a whole.
He adds: "Our focus has been to design a flexible and versatile wellboat that is competitive both today and in the future. It is therefore essential that the vessel has the lowest possible climate footprint and impact on the environment. This is achieved not only through the installed battery-hybrid solution but also by facilitating the installation of a reverse osmosis system for the production of freshwater, which in many places is a scarce and necessary resource".