International investments in Spanish biotechnology increase in 2020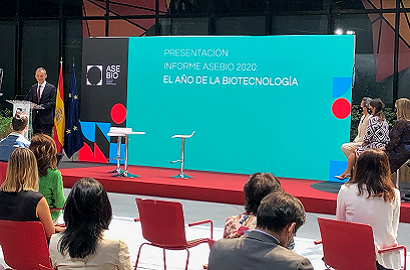 23 June 2021
Nine companies have managed to attract funding from investors in Switzerland, France, Italy, Germany, the United Kingdom, China and Andorra
Spanish biotechnology remains on the radar of international investors. In 2020, there was an increase in both the volume of transactions involving international investors and the number of companies subject to international investment.
Nine companies have managed to attract funding from investors in Switzerland, France, Italy, Germany, the United Kingdom, China and Andorra, the total figure, together with the participation of Spanish funds, being close to €100 million.

This is indicated in the Spanish Association of Biocompanies Report (AseBio) 2020, presented today at the ICEX España Exportación e Inversiones (Spanish Institute for Foreign Trade) headquarters in the presence of the Minister of Science and Innovation, Pedro Duque, and the Secretary of State for Trade, Xiana Margarida Méndez.

Spain ranks ninth in the world in scientific production in biotechnology and fifth in the very promising area of advanced therapies, and with a business network that has been strengthened over the last decade. This has aroused the interest of international capital and led to investment by international financial institutions over the past year.

In 2020, therefore, the European Investment Bank, the European Union's Community financial body that grants loans (among others) for investment that contributes to EU objectives, granted a total of 47.5 million euros in loans to the Spanish biotechnology companies Minoryx, Ability Biopharma and Sanifit. Vaxdyn also received non-dilutive funding from Boston-based accelerator Combating Antibiotic Resistance Bacteria.

Highly internationalised industry
AseBio member companies increased their international presence by 19% in 2020, with 35 member companies in 48 countries. Thirty-five AseBio member companies have a direct presence in 48 countries on five continents, six countries more than in 2019. In terms of the number of subsidiaries owned by members outside Spain, there was an increase of 27 compared to the previous year, reaching a total of 163 subsidiaries.

By country, the United States remains the country with the largest number of subsidiaries. Nineteen partners have regional offices there, followed by 10 in both Italy and Portugal, and nine in both Brazil and France.

The geographical distribution remains similar to previous years. Europe accounts for the largest number of affiliates, with 47% of the total, followed by Latin America with 26%, the United States and Canada with 13%, Asia and Oceania with 12% and Africa with 2%.

Partners also have eight subsidiaries in the United Kingdom, despite Brexit, two more than the previous year.