Liquibox opens new centre of excellence for packaging manufacturing in Madrid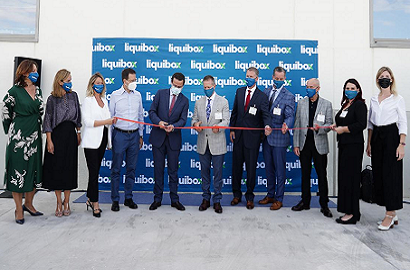 14 September 2021
This is the largest centre in Europe, the Middle East and Africa for a firm that is a leader in the packaging of liquids and semi-liquids
The American company Liquibox has launched its new centre of excellence in the Madrid district of Vicálvaro, dedicated to the manufacture of flexible bag-in-box packaging for liquid and semi-liquid products. The plant has a capacity of 13,000 square metres, and will triple the company's bag manufacturing capacity on the European continent. It will also increase the types and sizes of flexible bags it can introduce in both the wine market  and other sectors in food and non-food industries that package these types of products.
This new capacity will meet the growing demand for bag-in-box and bulk products from across the EMEA region (Europe, Middle East and Africa) and the increased growth of large packaging formats due to COVID-19, according to the company. "At Liquibox, our goal is to deliver sustainable performance to our customers by constantly focusing on our products, our processes and our people. This new state-of-the-art manufacturing site in Madrid underscores our commitment to achieving that goal", said Kevin Grogan, the company's commercial director. 

 Javier Fernández-Lasquetty, Madrid Regional Government's Minister of Economy, Finance and Employment, highlighted more than 100 new direct jobs created after the opening of the new plant, which features a larger and more flexible space for 16 bag manufacturing machines and additional storage capacity. This will allow Liquibox to adapt its operations to changes in volume and its product offering and significantly minimise waste. 
LiquiBox is headquartered in Richmond, the capital of the US State of Virginia, and has over 19 industrial and logistics locations distributed around the world, serving more than 100 countries spread across five continents, and with a global workforce upwards of 1,500 workers.
Foto: Liquibox