"Our value proposition is proximity and technology"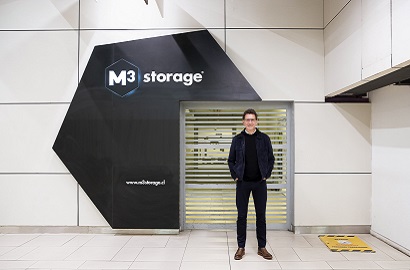 01 December 2021
M3storage is a start-up born in Chile in 2013 and founded by Frenchman Dom Teysseyre. The self-storage company rents storage boxes to individuals and companies. Its mission is to offer a flexible service with the highest standards of security, technology and quality
It currently has 75 branches in Chile, Colombia and Brazil. M3storage is setting up in Mexico in 2021 and will soon cross the Atlantic to conquer Europe. In Spain it has won the ICEX-Invest in Spain's Rising UP in Spain programme, focused on attracting foreign entrepreneurs who want to establish and grow in Spain. The selected start-ups receive resources to develop their business in the country. M3storage was selected out of 350 applicants.
What would you highlight about Rising UP in Spain? Would you recommend it to other start-ups in your region?
The programme is very well thought out. It clearly provides major support when deciding to set up in Spain. ICEX does in addition have great prestige in the country and is a seal of confidence; it clearly helps us when it comes to making first contact in Spain.
Why did you decide to apply and approach the Spanish market?
M3storage works with several European companies with a presence in Latin America. We have fitted out several properties belonging to major groups, especially French ones. So the decision to try to set up shop in Europe was a natural one. Spain even more so because of the language. And when ICEX opened the door for us, the decision to come and invest here in Spain was quite easy.
How was your arrival in Spain? What differentiates you from other platforms that already offer this service?
The self-storage market is much more developed in Spain (and the rest of Europe) than in Latin America. But our platform is unique in the market. We offer a unique experience and this is an important competitive advantage. In addition, we are seeing that the prices of existing storage units are very high. We can take advantage of our model to make the service cheaper and surely open up the service to customers who did not have access previously because of its current high cost.
Where are you at with regard to expansion into other countries/continents beyond Spain?
We are already present in Chile, Brazil, Colombia and Mexico. We are looking at some opportunities in Peru. In Europe, we are actively working in Spain (looking at spaces in Madrid, Barcelona, Valencia and several other cities in the country) and in Portugal. We want to confirm that our model is well established here in Europe as well. I hope it will be the starting point for even greater expansion.
How did you get started in terms of funding? Who supported you? Who is supporting you today?
The company is profitable. All growth to date is self-funded. Now, with the acceleration of the expansion plan, we are thinking of opening up to external resources. We are just starting to talk to potential investors or lenders now.
What are your objectives in this respect and in terms of turnover and growth for the coming years?
We currently have a growth rate of 100% per year. We want to maintain this pace for the time being until we are able to accelerate growth even further. Our five-year plan is to have 2,000 branches, a similar number to the world's leading self-storage company.
Source: El Referente
Read the full interview: M3storage rents storage boxes to individuals and companies (elreferente.es)
Photo: M3storage