Madrid and Barcelona among ten most attractive cities in Europe for entrepreneurs and startups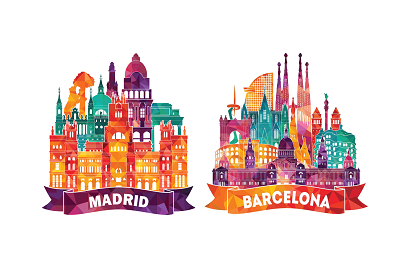 08 September 2021
According to the Financial Times
The Spanish cities of Madrid and Barcelona are among the most attractive European cities for tech startups, positioned sixth and seventh, respectively, in the Financial Times ranking. The prospects for creating new technology and innovative companies have been taken into account in compiling this list.
The 2021 edition of the study, known as 'Tech Cities of the Future', analyses 76 European cities from 31 countries, in five categories that include Performance, Economic Potential and Cost-Effectiveness. Madrid climbs five positions in the ranking, partly thanks to the presence of more than 300 startups and 100 coworking  spaces in the capital, as the study explains. In addition, Madrid is second in terms of the number of companies engaged in communications, fourth in strategy and seventh in performance, a category that evaluates success in attracting foreign capital. In statements reported by Europa Press, the Government of the Community of Madrid highlighted the results of the study, and stressed that the Community is "the leading attraction for foreign investment nationally, with 75% of the total received in Spain in 2020".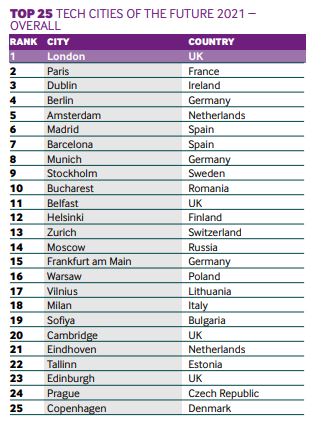 London, Paris, Dublin, Berlin and Amsterdam are the five cities  in Europe, all capitals, that are competing with Spain to be the headquarters of the big tech companies of the future. Only Germany, together with Spain, has two cities in the top 10 (Berlin and Munich).