Nexwell Power makes its second purchase in Spain in three months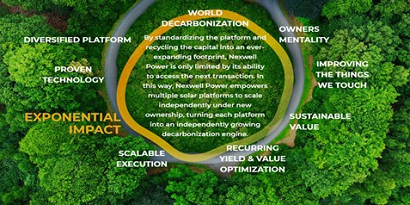 13 April 2021
It acquires an 89 MW solar PV power plant in Ciudad Real and a 50MW plant in Cordoba
The Nexwell Power venture capital fund closed the acquisition of a solar power generation project in Ciudad Real in March. The solar PV energy plant, with a capacity of 89 MW (megawatts), is ready to begin construction immediately, and could start producing electricity in the fourth quarter of this year. Located in the town of Manzanares, its production will be sold entirely to Nexus Energía through a long-term energy purchase contract.
Nexwell Power CEO Andreas Mustad says: "This investment reaffirms our staunch commitment to accelerating solutions for climate change". Miguel Muñoz, the company's CCO, adds: "We are very proud of the successful acquisition of the Manzanares project, which is the largest in our portfolio".

Target Spain
The Manzanares project is actually the second to be added to the portfolio of this young British fund, which has chosen Spain for its current focus on acquiring, building and operating solar PV power generation plants. Its first acquisition last January was the Posadas project in Cordoba, with a capacity of 50 MW.
Construction had already begun on the Andalusian project when the deal was closed. It also has a long-term power purchase agreement with Nexus Energía, which specialises in the distribution of renewable electricity in Spain. It is expected to start operating imminently, as announced at the time of purchase.

500 MW in a year
Judging by Nexwell Power's ambitious goal of building more than 500 MW of solar PV power facilities by the end of 2021, further transactions will soon be announced, all of which will reportedly be operated through long-term power purchase agreements.
To underscore its commitment to combating climate change, Nexwell Power reports that the Manzanares project will prevent the emission into the atmosphere of more than 62,637 tons of CO2 per year, while the Posadas project will prevent the emission of another 35,000 tons.