Novartis will compensate for its emissions in Europe with clean energy in Spain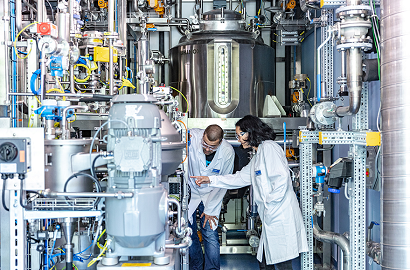 11 January 2021
It has signed five agreements to generate 275 megawatts in newly constructed plants
The Swiss pharmaceutical company has chosen Spain to compensate for all the greenhouse gas emissions resulting from its operations in Europe in the coming years. The five purchase-sale agreements for virtual energy that it has signed with three energy providers will cover 100% of its consumption throughout the continent with the generation of 275 megawatts of clean energy.
Novartis' initiative will promote the construction of five new solar energy plant and wind farm projects that will be responsible for producing this energy. Acciona, EDP Renewables and Enel Green Power are the three providers with which these agreements have been reached, and this could well make it the first pharmaceutical company to reach 100% renewable energy in Europe.
Carbon neutral by 2025
The balance of Novartis' environmental footprint in Spain is still negative and stands at -48.8 million euros, according to a FES 2019 study made by the company. Their global objective is to be carbon neutral in all their operations by 2025 and throughout their supply chain by 2030. At present, the renewable energy produced as a result of these agreements is equivalent to the withdrawal from traffic of over 113,000 vehicles per year.
It is envisaged that the five renewable energy projects resulting from the agreement will be operational in 2023. However, it will take ten years for Novartis' footprint to become carbon neutral in Europe.
Wind and solar energy
Enel Green Power is behind the construction of the TICO Wind Farm, located in Villar de los Navarros (Zaragoza), that will contribute 79 megawatts of sustainable energy to Novartis' plan. It will be the first of the agreed projects to be implemented, at the beginning of 2022, and it will mean a decrease of 96,400 tons of CO2 emissions to the atmosphere.
Acciona will be responsible for the development of two solar plants with a joint capacity of 169 megawatts, of which 135 megawatts will be dedicated to supplying the VPPA (Virtual Power Purchase Agreement) with Novartis. One of these will be located in Almendralejo (Badajoz) and the other in the towns of Jarafuel and Ayora (Valencia). They will both start to operate at the beginning of 2023.
Finally, EDP Renewables will be responsible for the development of a 36-megawatt wind farm in the province of Zaragoza and a 30-megawatt solar energy plant in the province of Cadiz. Both projects will start to operate at the beginning of 2023, they will provide a total of 63 megawatts of renewable electric power to the pharmaceutical company and contribute to them becoming carbon neutral in continental Europe.