PepsiCo launches global digital hub in Barcelona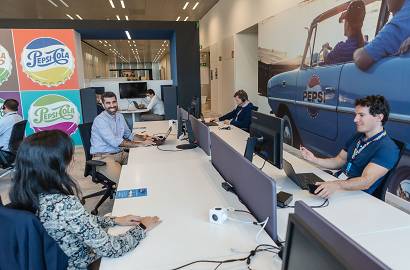 28 October 2021
The new centre will hire 400 people until 2024 and will be an engine of change for the company's internal culture
US multinational PepsiCo has chosen Barcelona for its first global digital hub, from where the company's main global digitisation programmes will be created and developed. This new centre of excellence will hire nearly 400 people until 2024 and will become the incubator solution to stimulate a change in internal culture, which will help drive long-term innovation. 
"The digital hub will enable PepsiCo to drive its digitisation agenda, capture new opportunities, introduce changes in the way we work and address common organisational challenges, such as reducing operational costs, improving the time-to-market, accelerating innovation, developing customer experience and increasing organisational efficiency", stated Athina Kanioura, EVP, Chief Strategy & Transformation Officer at PepsiCo Global. She also added, "Moreover, it will focus on incubating and developing digital and data talent, which will help us drive the desired changes across the company". We are aware of the gender gap in the ICT industry, so the company will use this hub to increase its commitment to female talent and STEM careers, with the firm objective of having a more diverse and inclusive organisation

The multinational has chosen Barcelona, considering that this is one of the most important hubs in Europe, thanks to its ecosystem of startups, technology centres, ICT companies and universities, as well as its capacity to create and retain digital talent. Narcís Roura, General Director of PepsiCo Southwest Europe, claims that the hub will accelerate the technological disruption of PepsiCo "thanks to the digital capabilities that will be key to improving our knowledge and, therefore, our competitiveness. It will also become the engine for a change of internal culture, which will surely help us improve upon our talent and diversity".

With the aim of diversifying talent, a part of the hub's team will be based in the Basque Country. The company has already started its recruitment process and is focusing on the search for profiles with solid digital skills. Currently, more than 45 people of 15 different nationalities have already joined the team, 24% of whom are women. 

Photo: Pepsico