ICEX-Invest in Spain allocates three million euros to attract innovative projects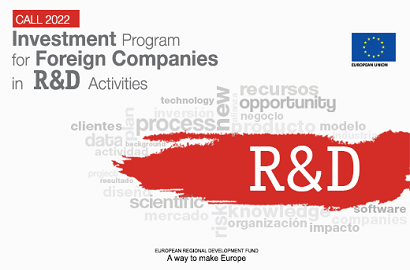 18 October 2021
ICEX-Invest in Spain has launched the 2021 call for the "Foreign company investment programme in R&D activities", which is open for applications until 12 November 2021
This edition will be allocated with up to three million euros, one million more than the previous call.
With this programme, ICEX-Invest in Spain aims to encourage the development of new R&D activities by companies with foreign capital looking to set up in Spain, or companies that are already established but which plan to continue investing in research and development. The aid will be co-financed from the European Regional Development Fund (ERDF).
The maximum amount of aid per beneficiary is 200,000 euros, since it is subject to the de minimis regulations which limit the aid per company to that amount during any period of three consecutive tax years. The amount depends on the size of the company and the nature of the project, and ranges from 25% for experimental development by large companies to 80% for experimental development projects by small companies in effective collaboration with other companies or with a research organisation.
The aid will be granted in non-repayable funds for personnel, equipment or material costs, buildings or land, acquisition of patents or licenses or other indirect costs that may be linked to the selected project.
The activities covered by the aid must be carried out between 1 January and 31 December 2022 in the autonomous regions of Andalusia, the Canary Islands, Castile-La Mancha, the Valencia Region, Extremadura, Galicia or Murcia.
In addition to foreign companies, business alliances where at least one company has foreign capital are also eligible for aid; these clusters not being required to have a legal form. For the purposes of this call, a foreign company is understood to be one where the share of foreign direct investment (FDI) in its capital is at least 10%, with FDI considered to be an investment made by a legal entity domiciled abroad or by a natural person not resident in Spain.
Ever since its inception, this programme has supported over 260 projects, benefited more than 2,600 highly qualified employees and mobilised 96 million euros in investment.
Applications for aid must be submitted through the ICEX Virtual Office.
For more information: https://www.investinspain.org/en/we-help-you/smart-technology-fund/previous-calls/call-2022