'Foreign company R&D investment programme' receives 72 applications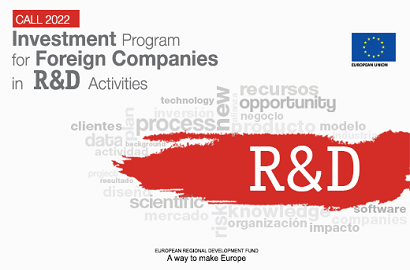 16 December 2021
This is a 44% increase from previous years. The main fields are IT, biotechnology and health, industry and energy, and environmental sciences.
The 2022 call for the 'Foreign company R&D investment programme ' by ICEX-Invest in Spain has received 72 applications, a 44% increase from recent years. The programme targets R&D projects by foreign companies wanting to establish themselves in Spain or established companies intending to continue investing in research and development.
The regions in which the eligible projects can take place are Andalusia, the Valencian Community, the Canary Islands, Castilla-La Mancha, Extremadura, Galicia and Murcia.

The distribution by sector of the projects submitted follows the pattern of previous years: the most active being IT, biotechnology and health, industry and energy, and the environmental sciences.
Geographically, most applicants come from the EU, North America and Japan, which are the countries that have submitted projects from larger companies and MNC subsidiaries.
Of the 72 applications received, 43 are from companies owned by a single foreign partner, while at the other extreme there are seven companies with a foreign stake of under 25%. In most cases, the latter are small Spanish companies that have added a foreign partner in order to gain access to aid from ICEX-Invest in Spain. The programme therefore serves as a direct incentive for these companies.
In regard to the size of the applicants, 67% are small businesses, while the remaining 33% are medium-sized (7%) or large (26%) businesses, following the pattern of previous years. The number of SMEs applying is rising owing to the restrictions imposed by the European Union with the de minimis rule.
Seventy per cent of the projects are reinvestment, while the remaining 30% are greenfield (13%) or from companies currently being set up (17%). 36% of reinvestment projects are from large companies, while all new greenfield projects are from small companies.
Impact on employment
The impact on employment is an average of 14 workers per project. Total added employment is 808 direct and 207 indirect jobs. These numbers also show an increase from previous years.
Finally, 32% of applicants are from companies that had made a previous application. And 23 of them had already been beneficiaries.