Chinese company PXI Automotive opens first European plant in Barcelona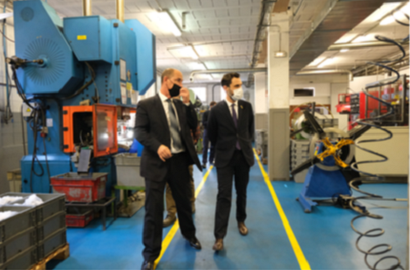 16 November 2021
The firm has acquired 100% of the shares in Mecánicas Troem
The Chinese company PXI Automotive has opened its first European plant, in Catalonia, manufacturing parts for the automotive industry. According to a statement by the Generalitat, the Asian firm has acquired 100% of the shares in Mecánicas Troem (Torelló), a Catalan company specialising in pressing and cold stamping of metal. PXI Automotive has made an initial investment of around one million euros, which will enable the plant to continue with its present activity with no loss of jobs.
According to David Prats Vivancos, general manager of PXI Automotive Spain, the company decided to buy out Mecánicas Troem because "we were in tune from day one. Mecánicas Troem was already exploring the possibility of selling, and the agreement was advantageous for both sides." The objective of this acquisition is to grow the Torelló plant in line with the arrival of the Chinese group's clients from around the world.
PXI Automotive Spain hopes to close 2021 with a turnover of around 3.6 million euros, 25% more than last year. The company's 5-year expansion plan expects to triple this year's turnover and double the workforce, which currently stands at 29 employees. The project was supported by ACCIÓ, the business competitiveness agency at the Generalitat's Department of Business and Employment. The new plant, with a floor area of 2,700 m², will manufacture curved pipes and machined parts, new products in its catalogue, and also for the automotive industry.
PXI Automotive has production plants in China and Mexico, and works mainly for around fifteen Tier 1 automotive parts suppliers around the world. The fact that Catalonia has an outstanding automotive cluster "was certainly a major factor in the company's decision to set up in Catalonia," according to Prats. Until now, Mecánicas Troem exported mainly to France and Poland, and is now expected to increase the volume of exports and the destination countries.
Photo: Generalitat