Rovi to manufacture the active substance of the Moderna vaccine in Granada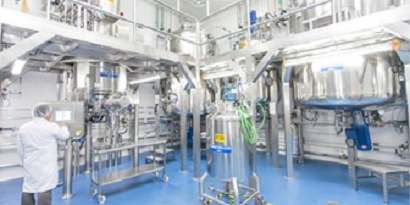 26 April 2021
The pharmaceutical company is investing in a new line to supply the market from Q3 onwards
In the coming months, Laboratorios Farmacéuticos Rovi will start producing the active substance of the Moderna vaccine to fight against COVID-19. The group's facilities in Granada were chosen to manufacture the active substance, which has required a series of industrial investments.
The trust placed by the US pharmaceutical company Moderna in the Spanish company provides backing for this investment, which is aimed at installing a support line for the vaccine's active substance production phases at the plant in Andalusia. This work is the step before pharmaceutical formulation, vial filling and making the product ready to be supplied to the market.

More than one hundred million doses per year
The facilities will be ready to start manufacturing the active substance throughout the third quarter of 2021. The company will have the capacity to produce the amount of active substances needed to manufacture more than one hundred million doses per year. This step thus allows Rovi to expand its partnership with Moderna in the production of this vaccine, by adding the active substance to its current portfolio of products and services, including the formulation, filling and final packaging tasks.
Juan López-Belmonte Encina, Rovi's CEO, is very happy with the decision taken by the company, stating that "we are very pleased to partner with Moderna, whose COVID-19 vaccine is one of the best positioned in the race to solve this health crisis. We are very excited, since Rovi will go one step beyond and participate in the production of the vaccine's active substance; a greater integration in the production process will allow us to increase Moderna's capacity to supply the vaccine on a larger scale".

Proven experience and capabilities
Rovi's CEO also referred to the agreement reached with the American pharmaceutical company, mentioning that "our proven experience and capabilities as a manufacturer of injectables for third parties of high technological value have allowed us to strengthen the current agreement with Moderna, which will contribute to strengthening our manufacturing area, and we expect this to give us a huge growth opportunity in this area".
Last January, the Spanish pharmaceutical company announced that it had completed the first batches of the Moderna vaccine for the European Union, which were manufactured at its Madrid facilities. To achieve this, it installed a new production line with the equipment required to perform the different manufacturing tasks, from formulation, aseptic filling and automatic visual inspection to vial labelling.

The company's plant in Madrid produces doses of the vaccine that are exported to markets outside the United States. This new production line also required new staff to be hired for the manufacturing and analysis operations.