Volkswagen Group launches Test Center Energy in Martorell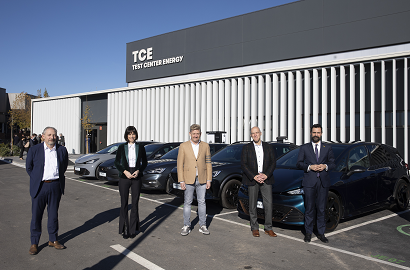 21 December 2021
The company has invested more than 7 million euros in the new research and development centre focused on batteries for electric cars and plug-in hybrids
SEAT (Volkswagen Group) has taken another step forward in its commitment to boosting electrification in Spain, and transforming the country into one of Europe's leading hubs in terms of electric mobility. The German group's subsidiary has launched Test Center Energy (TCE), a new R&D centre for  electric car and plug-in hybrid batteries, investing more than 7 million euros in the project. The facility, located in Martorell, is to be used to develop and test the performance of energy systems for CUPRA, SEAT and SEAT MÓ electric and hybrid vehicles, as well as other Volkswagen Group brands.
With a surface area of 1,500 m2 and a test capacity of up to 1.3 megawatts, the centre can test cell modules, batteries and electric vehicles. The TCE is part of the Volkswagen Group's global R&D network, and is its first such centre in Europe outside Germany, together with similar facilities in China and the United States. 
Werner Tietz, the company's Vice President for R&D, stated that "The TCE will perform up to 6,000 different tests, enabling the performance of batteries and charging systems to be validated and guaranteed. This is why the launch of this centre is great news, not only in terms of electrification within the company, but also because it will allow us to position ourselves as a leader in the development of solutions for sustainable electromobility". During the presentation, Wayne Griffiths, CEO of SEAT and CUPRA, reminded everyone that European funds will be needed to make these projects a reality.
As part of its electrification strategy, SEAT S.A. plans to manufacture electric vehicles in Martorell from 2025, and to play a key role in the democratisation of electric vehicles in order to make them more accessible to more people. The Test Center Energy building includes different spaces for the validation of battery modules with the most advanced chemical cell technologies, covering the full voltage range used in the automotive industry. Today the focus is on batteries for the MEB (electric) and MQB (hybrid) platforms, as well as different chargers used in all electric vehicles.
Photo: SEAT