Spain launches electric vehicle project to become EU electromobility hub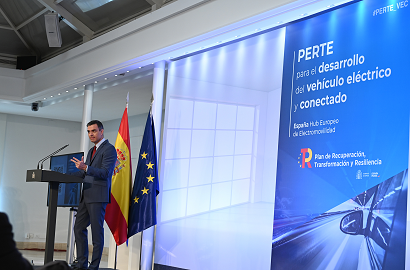 21 July 2021
The sector is expected to increase its  GDP share by as much as 15% by 2030
The President of the Spanish Government, Pedro Sánchez, has presented the first Strategic Project for Economic Recovery and Transformation (PERTE), which aims to create the necessary ecosystem in Spain to develop and manufacture electric and grid-connected vehicles and turn our country into the European hub for electromobility. The PERTE is aimed at one of the Spanish economy's strategic sectors, with a pull effect due to its share of domestic GDP and direct and indirect employment, and its contribution to the trade balance. Spain is the second largest vehicle manufacturer in Europe and the ninth largest in the world. It represents 11% of total industrial revenue. The automotive sector is the fourth largest export sector and represents 15% of total Spanish exports.
The PERTE calls for a total investment of more than EUR 24 billion from 2021-2023, with a public sector contribution of EUR 4.3 billion and a private investment of EUR 19.7 billion euros. "With this investment to boost electric vehicles we believe that the sector can increase its share of GDP by as much as 15% by 2030," points out the Chief Executive. To promote this project, the President has announced the creation of an Alliance for Electric and Connected Vehicles, involving all of the main players concerned and guaranteeing permanent dialogue.
The Electric Vehicle PERTE will help to create and consolidate quality jobs, since all the projects approved will include training to ensure the skilling and reskilling of employees. In addition, hundreds of thousands of young people will be trained through the new VET programmes aimed at the sector, as well as  digital qualification programmes, which will be financed from European funds. "Spain is to be first country to deploy a Battery Academy. The initiative will allow 150,000 people to be trained in the coming years in the various areas related to developing and manufacturing batteries for electric cars", explained Pedro Sánchez.
Other expected impacts include the registration of 250,000 electric vehicles by 2023 and between 80,000 and the deployment of 110,000 charging points.
Photo: Moncloa Pool/Borja Puig de la Bellacasa