Spain is the second-largest destination for Latin American investment according to the ICEX Global Latam 2020 report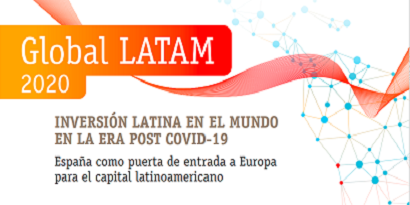 07 April 2021
Several Latin American technology and service companies have announced plans over the past year to invest and expand in Spain 
Madrid, 7 April 2021.- Latin America has become the fourth largest investor in Spain in the last decade, behind only the United States, the United Kingdom and France, and ahead of countries such as Germany or China. Latin American investment in Spain already stands at 42.663 billion euros – 61.104 million including investment in holding companies. Latin America has invested an average of 3.8 billion euros annually in Spain since 2010.
These are some of the main figures included in the third edition of the Global Latam 2020 report published by ICEX-Invest in Spain with the collaboration of the Ibero-American General Secretariat (SEGIB), and which was presented at an event presided over by María Peña, CEO of ICEX Spain Trade and Investment, and Rebeca Grynspan Secretary General of the SEGIB.

Spain received 968 million euros' worth of investment from Latin America in 2020, substantially lower than in 2019 and on a par with 2018. This is 38.4% down from the annual average for Latin American investment in Spain over the past ten years, but less than the fall in foreign direct investment (FDI) worldwide, estimated at 42% by UNCTAD. The data for productive investment contrasts with the high investment activity by holding companies of Latin American origin, which have a major presence in Spain. In 2020, in particular, these types of transactions were up 152% compared to 2019. The intense activity involving financial flows in holding companies reflects the growing importance of Spain as an entry route for Latin American investment to third destinations, particularly in Europe.

Despite the challenges of arranging new transactions during the pandemic, some very significant investments were recorded in 2020. This included numerous new investment (greenfield) projects announced by Latin American companies, particularly related to technology companies. Some examples include increased investment activity by the Argentinian technology company Globant, the Brazilian financial services company IG4, the Brazilian financial company Creditas, the Argentinian software development company Veritran, and Mexico's KioNetworks, which specialises in data analysis.

Strong resilience during the pandemic
Foreign investment is playing an increasingly important role in Latin American companies. Companies in the region now have ~$765 billion invested outside their borders. Against a backdrop of weak economic growth in the region, there has been a notable and significant increase in Latin American FDI worldwide in recent years, up 69% since 2011.

Despite the challenging international situation and the fact that Latin America is one of the regions that has been most severely hit by the pandemic, major Latin American companies showed significant resilience in 2020 in terms of their external expansion, albeit with very marked differences between countries. FDI from the region plummeted by 90%, mainly due to the reversal of profits at Brazilian corporations, and without which the decrease would have been only 2% compared to the previous year, according to estimates from the Global Latam report based on official sources.

The fall in outgoing FDI was not only significant in Brazil in 2020 (-174% in annual terms), but also in Peru (-56%) and Colombia (-39%). In other large countries in the region, such as Argentina (-21%) and Chile (-15%), the fall was smaller. Outward FDI from Mexico in contrast grew in 2020 (+55%) compared to 2019, this also being the case with Costa Rica and Guatemala. These data must be interpreted with caution, as it is quite possible that large companies may have been forced to postpone their expansion processes until the health crisis is resolved, borders reopen to business travel and the uncertainty disappears. On a positive note, it is worth stressing that there has been little impact on companies' ability to finance themselves in the markets, which will allow them to resume any investment projects that have been put on hold during the pandemic.

Sector behaviour was very uneven in 2020. Investment was down in mining, construction and retail sales, while it increased in logistics and transport, business services, marketing and other services, and research and development.

The report also analyses the opportunity presented by the adoption of sustainability criteria to promote the internationalisation of Latin American companies. Increasing environmental regulation, for example, is a key factor for investment and international growth in Latin American companies. Latin America has leading companies such as Natura or Cemex that are driving their international expansion based on sustainability criteria. The way that Latin American companies incorporate these sustainability standards will be crucial to enable international expansion in sectors such as mining, steel, agro-industry and energy, among others.