United Arab Emirates company to build its first sugar plant in Europe in Extremadura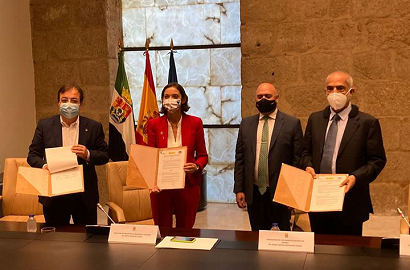 28 July 2021
Work will begin in 2022 and the plant could become operational in the first quarter of 2024 
Al-Khaleej Sugar, the world's largest sugar factory and located in Dubai, is to build a factory in Merida for the production of beet sugar. The Minister of Industry, Trade and Tourism, Reyes Maroto, the President of the Junta de Extremadura, Guillermo Fernández Vara, and the President of Ibérica Sugar Company SLU (a subsidiary of Al-Khaleej Sugar), Jamal Al Ghurair, have signed a declaration of intent to collaborate in the construction of the plant. The project will involve an investment of 470 million euros and the creation of 54 permanent jobs, with an additional 254 workers during the annual campaigns. As reported by Jamal Al Ghurair, construction work on the plant is scheduled to begin next year. The aim is for three quarters of the area needed for beet cultivation to be located in the region of Extremadura and to start production in 2024.
Reyes Maroto stressed that "the new plant will make it possible to strengthen industrial capacity in Extremadura and generate high-quality employment, being looked upon as a positive contribution by farmers throughout the region, who feel it will help to establish a settled population". The Ministry of Industry considers it to be a strategic industrial project "because it is the first sugar production factory to be built in Europe in the last two decades and it will have the support of public instruments such as the Support Fund for Productive Industrial Investment that we have just launched. This is a 600 million euro fund that will contribute to increasing industrial production and high-quality employment throughout Spain".
The plant's main product will be sugar, with the capacity to process 36,000 tons of beet per day. The area around the factory will become an industrial hub for companies that use sugar intensively, such as producers of sweetened beverages, sweets and chocolate. The Chairman of Ibérica Sugar Company SLU said that production of between 700,000 and 900,000 tons per year will be required to be able to talk of a gigaplant, and there will need to be a sugar beet growing area of between 80,000 and 100,000 hectares. In this regard, the President of Extremadura, Fernández Vara, pointed out that an agreement has already been reached between the promoters and professional agricultural organisations regarding production. And in the event that the necessary number of hectares is not reached, farmers from Portugal and other neighbouring communities could also participate. 
Photo: Moncloa