Austrian company Verbund commences operations in Spain after acquiring solar park from German company BayWa r.e.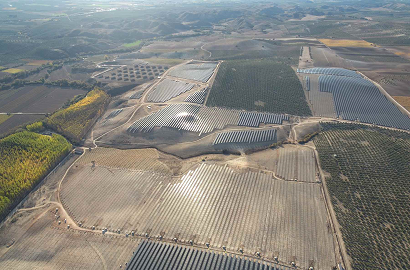 16 December 2021
The 150 MWp facility is scheduled to start operating in the first quarter of 2022
The Austrian electricity company Verbund AG has acquired the Íllora PV solar energy project, in the province of Granada, from the German company BayWa r.e. The solar park is located in Pinos Puente, near Granada, and is divided into three photovoltaic blocks with a planned total capacity of 147.6 MWp. Íllora will produce approximately 260 GWh of green electricity per year. The construction of the solar park began in May 2021, with commissioning planned for the first quarter of 2022.
Verbund's 2030 strategy involves significant growth in solar and wind energy, with the aim of producing around 20-25% of the total electricity generated by solar PV energy systems and onshore wind farms by 2030. As well as entering the Spanish market, "this transaction is a key step on the road to the future of renewable energy," says Michael Strug, Executive Director of Verbund.
BayWa r.e. began operating in Spain in 2010 and since then has developed, constructed, managed and promoted large-scale solar photovoltaic projects throughout the country. In its first year, it built what was at the time the largest rooftop solar photovoltaic plant in Spain, generating 3.35 MWp. It has constructed 22 solar photovoltaic plants connected to the grid, with total installed power of 262 MWp. "We are delighted with this successful collaboration with Verbund and very proud of implementing this  large-scale Íllora project, which is among our pioneering activities in southern Europe," confirmed Benedikt Ortmann, Global Director of Solar Projects at BayWa r.e. "Spain continues to be one of our key markets and we have seen strong growth in recent years." 
Photo: Verbund