Volkswagen Group and SEAT make progress on establishing electric mobility hub in Spain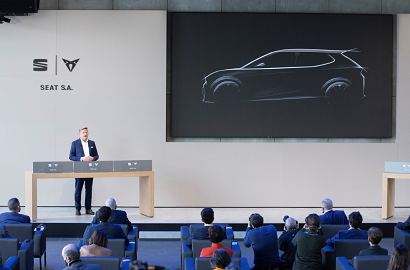 15 July 2021
The battery factory could become the third of one of its six gigafactories in Europe
The 2030 roadmap for the Volkswagen Group and Seat aims to turn Spain into a strategic pillar for their global electrification plans, as revealed by Herbert Diess, CEO of the German consortium. They are willing to cooperate with the Spanish Government to transform the country into a leading hub for electric mobility and will therefore request to join the Strategic Project for Economic Recovery and Transformation (PERTE).
The Volkswagen Group plans to build a battery factory in Spain as part of the "Future: Fast Forward" project, which could become the third of one of its six gigafactories in Europe. The already planned family of small electric models could in addition be manufactured in Spain, which could play a key role in the democratisation of electric mobility across Europe. "Spain could become a strategic pillar of our electric vehicle strategy. We are willing to establish the entire value chain of electric mobility across the country, including the production of electric vehicles and their components, and the Group's new battery factory. From 2025 onwards, the small BEV family could be manufactured in Spain, depending on the general situation and the support received from the public sector", confirmed Herbert Diess, CEO of the Volkswagen Group.
This article was published after the Government approved the PERTE for the development of electric and connected vehicles. Moreover, the Government plans to inject €4.3 billion that according to the Government's Executive branch, will attract private investment worth €19.7 billion. Wayne Griffiths, CEO of SEAT and CUPRA, explained that "we back and wish to join the PERTE announced by the Spanish Government. Materialising the potential of the "Future: Fast Forward" project requires the support and funding of the public sector. Our goal is to cooperate with the Government to transform Spain into a European hub for electric mobility and to turn the SEAT S.A. manufacturing plant in Martorell into a factory that solely manufactures electric vehicles". Wayne Griffiths also mentioned that the Iberian Peninsula is key to achieving climate-neutral mobility in Europe by 2050, mentioning that "we are prepared to transform the Spanish automotive industry and contribute significantly to the decarbonisation of south-west Europe". 
Photo: Seat