Bilbao to have international entrepreneurship and innovation centre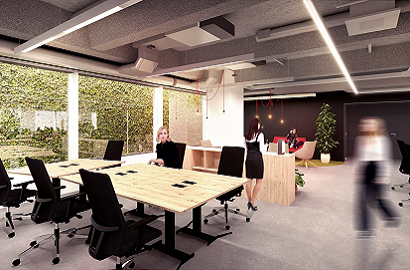 25 January 2022
The B Accelerator Tower will become part of a network of over 140 international nodes
Vizcaya provincial council of has announced the implementation of the B Accelerator Tower (BAT) international entrepreneurship and innovation centre. This new institution expects to open in September 2022 in Torre Bizkaia, the former head office of BBVA in Bilbao. Over thirty companies and organisations have already announced their support for this project, which intends to create a large community of startups, companies, investors and technology partners.
The BAT will have specialised programmes and services and will act as a vehicle to channel all kinds of public funding related to startup acceleration  and the development of new technology solutions. Three companies will be at the forefront, splitting the management and contributing their experience in accelerating and incubating innovative business projects: PwC, Talent Garden and Impact Hub.

The world's best connections
The management companies will also provide the international connection afforded by its over 140 international nodes to make it the best connected entrepreneurship centre in the world. This means that the BAT will become part of a network of centres spread over major international cities such as Shanghai, Singapore, Tokyo, Boston, New York, São Paulo, Dublin and Tallinn.

The new entrepreneurship centre will give a particular emphasis to intensive technology innovation projects and sustainable business models. Companies will have access to investors, partners with whom they can implement pilots, and scientific, technology and training agents that complement their knowledge. The acceleration programmes will be supported by experts, and matchmaking programmes will be organised using open innovation models, specialised training activities and networking events, among other services.

Public-private partnership
According to its promoters, this public-private partnership model is new in the field of international advanced entrepreneurship. It will in addition be located in the economic and financial heart of Bilbao. The leader of Vizcaya provincial council of, Unai Rementeria, underlines its strategic nature to position the province as an international benchmark in advanced entrepreneurship.

In the words of Rementeria: "We have the taxation, the talent, the infrastructure, the public commitment and the necessary ecosystem. We have the vision and the ambition, but we were missing a place that unites us and connects us with the rest of the world. And this place is the International Entrepreneurship Centre. The Torre Bizkaia. A place that bring us together to be more competitive, and from where we can face the significant transformations and opportunities that cutting-edge countries are already facing."

A giant step
As a community of local and international startups, companies, investors, scientific and technology agents and training centres, the BAT will support its members in finding what they need and add their own value to the whole. The president of PwC Spain, Gonzalo Sánchez, explains it as "a giant step for the economy and industry of Euskadi, Vizcaya and Bilbao, where there is once again a commitment to entrepreneurship and business development."

The companies involved in the project include Iberdrola, Repsol, BBK, BBVA, Santander, Telefónica, CAF, Mondragón, Eroski and Kaiku, to name but a few. Institutions such as the Universidad del País Vasco, Deusto, Mondragon Unibertsitatea and Fundación Puerto de Bilbao have also announced their support.

Photo: (infographic): B Accelerator Tower